Toys R Us Gets A Secret Wars Preview
But You Only Have One Week...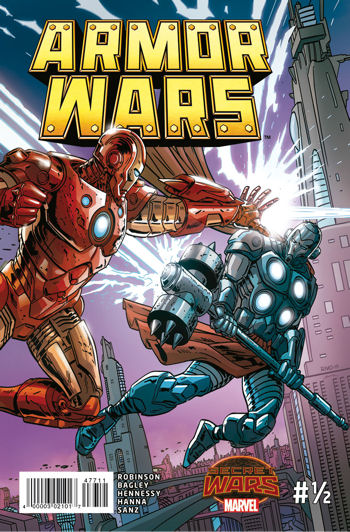 Well played, Marvel.
Listeners of the podcast would have heard our recent interview with James Robinson in which he talked a bit about his contribution to Secret Wars. Both titles could be considered tie-ins to Avengers: Age of Ultron (in a vague way), but Toys R Us probably doesn't want to bring kids in with Age of Ultron vs. Marvel Zombies.
So instead... they've got a preview issue of Armor Wars.
It's likely to be one of the best written toy store giveaways they've ever had -- of course, there are limited supplies and you will have to buy Marvel toys to get it.
Here are the details from Marvel:
This May, the most anticipated comic event of the year will officially unleash as Marvel Comics launches its epic event, Secret Wars.An initiative that shakes the foundation of the entire Marvel Universe, Secret Wars presents a gripping original series that features new incarnations of Marvel's iconic heroes and villains, intense battles and the emergence of new worlds. One of the hottest and most anticipated Secret Wars storylines – ARMOR WARS – centers on a civil war in a city of iron men and iron women that threatens to destroy the Stark dynasty. But the origins of this cataclysm all lay within the pages of SECRET WARS: ARMOR WARS #½, which will be released as a free gift with purchase exclusively at Toys"R"Us® stores nationwide and online at Toysrus.com. As part of the company's massive Marvel's Avengers: The Age of Ultron retail program, Toys"R"Us customers will receive a complimentary SECRET WARS: ARMOR WARS #½ comic with any Marvel purchase of $25 or more from Sunday, May 3 through Saturday, May 9, while supplies last.*
In this directly connected Secret Wars comic, Eisner Award-winning writer James Robinson (Armor Wars, All-New Invaders) and artist Mark Bagley (Ultimate Spider-Man, Hulk) treat readers to a heart-pounding look at the events that lead to ARMOR WARS.
"This is a really cool prelude that sets the stage for Eisner award-winning writer James Robinson's SECRET WARS: ARMOR WARS techno-noir thriller. And you'll love the detail, mood and action that superstar artist Mark Bagley delivers," says series editor Mark Paniccia. "It's a great introduction to TECHNOPOLIS and the earth-shattering mystery that's at its center."
In the retro-future city of Technopolis, the population is now in the clutches of a disease that makes it impossible for anyone to survive without a suit of armor. Rival brothers Tony and Arno Stark provide the technology that keeps the city alive.
But, there are secrets on the street about the origin of the disease that confine the citizens of Technopolis…and key players begin to make their moves based on data that could take down the protectors of the city Tony Stark (IRON MAN) and Jim Rhodes (THOR).
Who has learned a revelation so stunning it will lead to their end? Find out as Marvel teams up with Toys"R"Us to release this epic 12-page prequel comic book, available for a limited time only through the retailer's exclusive ARMOR WARS free gift with purchase program. Customers visiting Toysrus.com can also discover the secrets of ARMOR WARS and receive a complimentary comic with their online Marvel purchase of $25 or more from Sunday, May 3 through Saturday, May 9, while supplies last.*
Additionally, fans can now shop a broad assortment of must-have Marvel's Avengers: The Age of Ultron merchandise at dedicated, front-of-store feature shops in Toys"R"Us stores nationwide, including exclusive products from Hasbro®, such as Marvel's Avengers Titan Hero Series™ 3-Pack Iron Man, Quicksilver and Marvel's War Machine, Marvel's Avengers: Age of Ultron Cycle Blast Quinjet, Marvel's Avengers: Age of Ultron Avengers HQ Hulk Buster Breakout Playset and Marvel's Avengers: Age of Ultron Avengers HQ Captain America Tower Defense Playset.
"We are thrilled to be the first retailer to bring SECRET WARS: ARMOR WARS #½ to Marvel Universe fans and collectors nationwide, and to offer them the opportunity to receive this special Secret Wars comic book as a complimentary gift with purchase only at Toys"R"Us," says Richard Barry, Executive Vice President, Chief Merchandising Officer, Toys"R"Us, Inc. "Not only can customers experience the secret ARMOR WARS world, they can shop our unparalleled assortment of Marvel products and exclusives, just in time for the upcoming debut of Avengers: Age of Ultron."
Stay tuned to Marvel.com/secretwars as the new Marvel Universe continues to be forged. Follow Marvel on Facebook at www.Facebook.com/marvel and be sure to join the conversation on Twitter with #Marvel, #SecretWars, and don't forget to follow us @Marvel.
*Quantities limited; no rain checks. Limit one per customer. Not valid on prior purchases. Offer valid 5/3/15-5/9/15.
SECRET WARS: ARMOR WARS #1/2
Written by JAMES ROBINSON
Art by MARK BAGLEY
Cover by PAUL RIVOCHE & ESTHER SANZ