All-New Invaders #1
Bringing The Battlers Of WWII Back Together!
When The Invaders launched back in the '70s, Marvel got one heck of a great title. Because, let's face it, Captain America was at his best in his original time period, Namor was a jerk but he was always our jerk, and the original Human Torch? He may be confusing to the general public, but there's something straight-up cool about Jim Hammond.
Assuming you know who I'm talking about. And if there's a problem with All-New Invaders #1, it would be that. Thanks to the movies, people are vaguely up to date on Captain America and may be aware of Bucky's new status as The Winter Soldier, and Atlantis is an easy concept to grasp, so Namor doesn't need much explanation. But The Human Torch -- isn't he in the Fantastic Four? (I don't know -- I'm behind a few months on that title.)
So I'm in one of those quandaries -- I love James Robinson's writing. In just a few pages, he establishes Jim Hammond as a good man trying to keep a low profile in a small town. Though he doesn't seem to eat much -- is that a thing about him? Does he not eat? -- everybody likes him.
But the book also comes weighed down with a lot of extra backstory baggage, and though that one-shot Marvel NOW! book a couple of weeks back explained a little about the main plot, I'm not sure what event has Hammond so haunted. Especially when this well-written, a team book should get a new reader excited about the team, not immediately pointing out how much prior knowledge you need.
Because this team should be an easy sell, even though it takes a little more twisting and turning to get these heroes together in 2014, while still evoking their patriotism in World War II. The title alone is a great trademark, which is why the team pops up again and again without recrossing the forties.
Marvel needs to hold it together long enough for Namor to come out of hock from Universal Studios. Think of how great an Invaders movie would be. (Don't forget -- Jim already appeared in Captain America: The First Avenger.)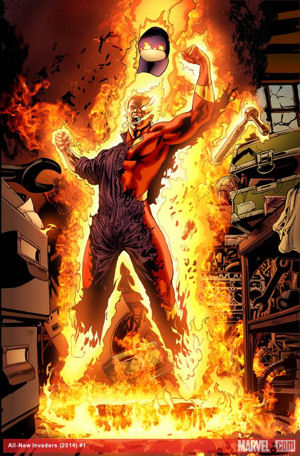 Robinson even brings a touch of Guardians of the Galaxy, as the Kree Empire wants some weapon that the Invaders hold the key to retrieving. Once upon a time, it seems, the Nazis used it to enslave the Norse Goddess of Dath, Hel, All the Invaders blocked this from their memory, including the entire existence of a patriotic hero who stepped in for Captain America on that particular mission.
Or is that recovered memory real? If Robinson is plotting without too strict an editorial mandate, there has to be more than meets the eye. Knowing his work (and being hopeful he is truly in charge), it may be real, but still not what it seems.
All of it is dynamically laid out by Steve Pugh, an artist who captures the ordinariness of humanity. For the scenes of Hammond creating a secret identity, it's sweet. Character body language shows the camaraderie and comfort Hammond has with these people, and his anger when it gets disturbed is palpable in Pugh's panels.
Which is also a tribute to Pugh -- his art explodes when drawing action, and he makes the confrontation between the Accuser and Hammond exciting, and a great usage of space to tell a story.
So All-New Invaders will bring me back; it's just hard to see how it will snare as many new readers as they'd hoped.
Find this book and, of course, any comics you like at your local comics shop. We recommend Earth-2 Comics in Northridge, Earth-2 Comics in Sherman Oaks, Illusive Comics & Games, Hijinx Comics and The Comic Bug -- and many, many more in a neighborhood near you.