April Is "What The Duck?" Month At Marvel!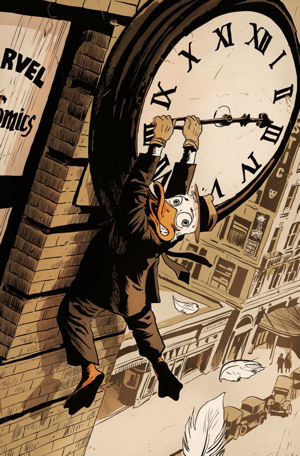 When Marvel announced WTD month, most speculation leaned towards Deadpool being the focus of the event, because Marvel had used the Merc with a Mouth in such promotions before. On our podcast, I speculated maybe it was "What the Disney?" month -- but that was before it was announced that almost everything Disney was heading over to IDW.
So THAT didn't make sense...
However, the answer was obvious. We just had to rhyme in our heads. Maybe Marvel doesn't want to have Uncle Scrooge in their stable because they're trying to carve out space for their own duck -- Howard!
And so April will inundate us with variant covers featuring Howard the Duck, mostly in his new 21st century guise. (We all had hopes that he would go back to that classic Val Mayerik-Gene Colan look that was sort of warped Carl Barks, but it is what it is.)
What it is looks pretty darned cool. How about a book of just these covers, Marvel?
From Marvel:
Sure, the highly anticipated HOWARD THE DUCK #1 from Chip Zdarsky and Joe Quinones hits comic shops in March, but Marvel is keeping the celebration going all the way into April! Today, Marvel is proud to unveil WHAT THE DUCK?! Month – a series of 20 special variant covers for April featuring that fabulous fowl, Howard The Duck! Now is your chance to see some of the most popular artists in the industry provide their own spin on that magnificent mallard!
"Response to the announcement of the new Howard the Duck series has been staggering," says Marvel SVP Sales & Marketing David Gabriel. "There were so many talented artists eager to take a quack at drawing a Howard cover we couldn't resist building an entire variant month around him. This April is going to be WTD certified!"
Today, Marvel is excited to reveal the following WTD Variants by some of Marvel's greatest cover artists:
· All-New Hawkeye #2 - WTD Variant Cover by Francesco Francavilla
· Amazing Spider-Man #17 - WTD Variant Cover by W. Scott Forbes
· Rocket Raccoon #10 - WTD Variant Cover by Rob Guillory
· Uncanny Inhumans #0 - WTD Variant Cover by Christian Ward
Look for these additional WTD Variants to grace the covers of these exciting Marvel comics throughout the month of April:
· All-New Captain America #6
· All-New X-Men #41
· Ant-Man #4
· Daredevil #15
· Deadpool #45 (a.k.a. Deadpool #250)
· Guardians of the Galaxy #26
· Hulk #14
· Inhuman #14
· Legendary Star-Lord #11
· Ms. Marvel #14
· S.H.I.E.L.D. #5
· Silk #3
· Spider-Gwen #3
· Superior Iron Man #7
· Thor #7
· Uncanny Avengers #4
No fan can afford to miss out on these exciting variant covers featuring the one and only web-footed wonder! Run, don't walk to your comic shops this April to get your hands on these can't miss WHAT THE DUCK?! Variant Covers!