Dark Horse Brings A Dark Universe Together...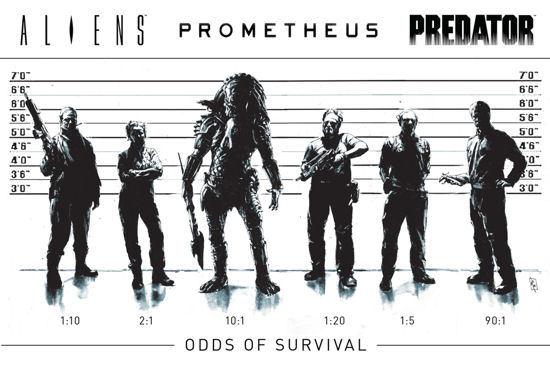 The guy just to the right looks kind of like Leatherface...
This has been brewing in the fan press for a while, but now we have the certain teaser. Dark Horse Comics, which spawned the excitement of Aliens Vs. Predator (almost all issues of which kick the butt of the films) are adding Prometheus to the mix.
This could be pretty satisfying on a visceral level, but I wouldn't lay odds on how much sense they can make out of the Prometheus mythos. While much of it must exist in notes somewhere, it's also pretty likely that Scott Free Productions would like to save the real revelations for the big screen.
At any rate, it's the blockbuster horror film they're billing as "...a universe of terror drawn to one world." Only it won't be at your local cinema; it will be in your local comics shop. So head over this summer and take a piece of the mayhem...