Top Team Continues On
Robin, Son of Batman...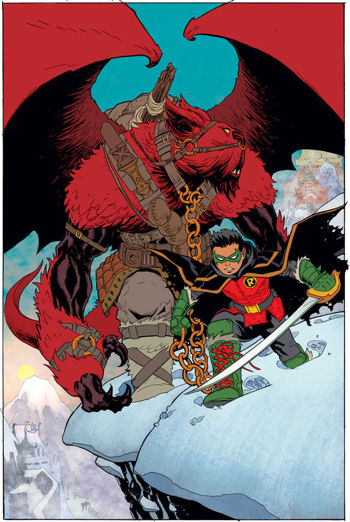 Out of DC's "Divergence" event, which will see the release of 25 new books in June, we're getting many different types of books. But one, we're actually very glad to say, will be somewhat the same.
Despite some editorial turns that mucked a bit with its directions, one of the best books DC has had during The New 52 era was Batman and Robin, written by Peter J. Tomasi, with art by Patrick Gleason and Mick Gray. In the announced pack for June, Batman and Robin is gone, replaced by Robin, Son of Batman. Tomasi, too, will be moving on to other books, but Gleason is taking over the writing chores as well as (announced) art.
So here in the Fanboy Planet orbit we got a little nervous. Not because of Gleason writing, and I'll get back to that in a minute, but because Mick Gray was not on the official list of creative teams.
We are very happy to confirm that Gray will be staying on as inker for Gleason's pencils, for a variety of reasons.
First, admittedly, Gray is a friend. Local to San Jose, he's a vital part of the community. Gray bangs the drum for comics through appearances at APE, Big Wow Comic Fest, and last year had a show at Dan Vado's Art Boutiki Gallery. So I'm always happy when someone I know and respect personally continues getting to do a job he absolutely loves.
That said, he's also one of the best inkers in the business. When teamed with Gleason, it's not just powerhouse art, it's really art that has defined a single character: Damien Wayne, aka Robin, Son of Batman.
Yes, others have drawn Damien, as he first appeared in Grant Morrison's run on Batman. But it really has been Batman and Robin that let him breathe and grow as a character. Tomasi gave him words, but Gleason and Gray's art gave Damien life.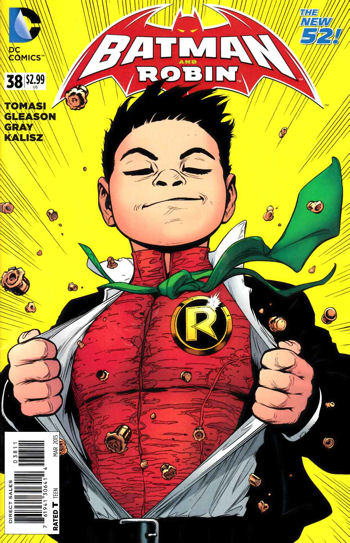 Which is also why having Gleason add the writing chores to his workload doesn't have me worried. It's time for him to step forward and become a true cartoonist (with support from Mick Gray). This guy understands the character.
Case in point, which Ric and I talked about on the podcast recently: Damien's return to Batman and Robin in issue 38. Damien has returned from Apokolips with unexpected powers -- essentially duplicating a certain Kryptonian.
So you have a 10-year-old boy, already cocky for a variety of reasons (not the least of which is just having come back from the dead, as you do), and now he's invulnerable.
Gleason and Gray say everything about who Damien is on that cover. Not just the power, but the 10-year-old. That kid is a kid. (And god help Bruce Wayne and Alfred in dealing with him.)
Of course Damien also has a strong streak of good, making him one of the most interesting characters DC has, pre-and-post-New 52.
We have very high hopes for Robin, Son of Batman, and the continued contributions of Patrick Gleason and Mick Gray to the character. (We also have hopes it stays at $2.99, but that's another issue...)
Talk back to us via email, Facebook, or Twitter @FanboyPlanet!