C2E2 2011
Our Man In Chicago Checks Out The Con...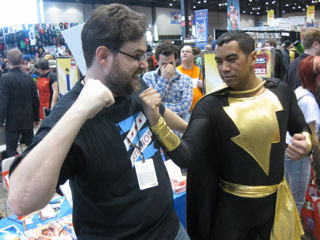 Which is better? C2 or E2? The world may never know.
The return of The Chicago Comics and Entertainment Expo, otherwise known as C2E2, proved to everyone that last year's inaugural successful convention wasn't just a one-shot deal.
Reed Pop returned to the McCormick Place with the same excitement and energy that swept Chicago's lakefront last year. Once again, they built it and all the fanboys (and girls) came, in fact even more so than last year!
There were more people crowding the floor, artist alley seemed tighter, and there were definitely a lot more sore feet...well, at least I know mine were.
Change is inevitable with each convention and this year was no different. The biggest adjustment made was to have the entire show move from the East Hall to the West Hall. This was surprising considering that what everyone loved about the last year was all of the natural light that come in through the enormous windows surrounding the show which displayed the beautiful Chicago skyline. Those who have been attending cons for years know that the interior of a show can often feel like you're in a bunker or someone's garage, so natural light and a view of the city really elevated the atmosphere.
Well, the floor plan was just as large in the West Hall but the natural light was considerably less and there was basically no view (unless you count the dilapidated buildings near the highway). Still, it's hard to complain when you see all the hard work Reed Pop VP Lance Festerman and crew have invested to make this a show with consistent buzz and considerable drawing power.
From what I hear most of the panels were packed, particularly the ones with stars from The Walking Dead. The IGN theater drew an impressive audience for Patton Oswalt on Friday and Chris Hemsworth on Saturday.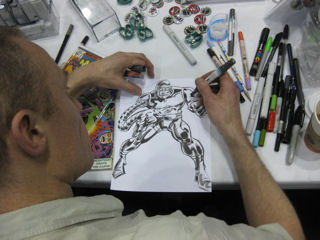 That's a creditable Kirby...

Most of my time throughout the weekend was spent as a volunteer for The Hero Initiative. For those not in the know, The Hero Initiative is a non-profit organization headed by Jim McLauchlin that helps comic veterans in need. They either help with any financial or health needs these creators might have or help them find work. Over the years, iconic creators such as Dave Cockrum, Gene Colan, and Russ Heath have benefited from the funds that have been raised by Hero. It's a way to give back to the creators who have given millions hours of enjoyment.

So, for the past several years, whenever a con rolls into Chicago, I have worked The Hero Initiative booth. The experience of meeting a variety of artists and writers is always something to look forward to and the cohesive crew have developed into a functioning dysfunctional family.

Whether we are at a show put on by Wizard or C2E2, there is usually a weekend special guest that spends of good deal of time at our booth. This year we were blessed to have artist John McCrea (of Hitman and The Boys fame) with us, who turned out to be a very generous and gracious guest. He was a good sport to suffer our jokes as he did and wound up signing and drawing for any fans willing to donate to Hero.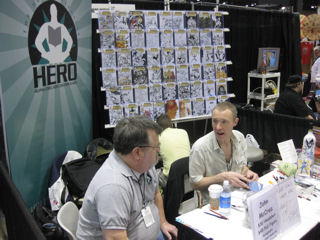 Hitman Omnibus...Hitman Omnibus...

I asked McCrea if I should invest any hope in some kind of Hitman Omnibus and he just looked at me with as much wishfullness. It's too bad because there's a strong fanbase clamoring for such a collection. DC, can you hear me?

Along with McCrea, a line-up of the usual guests made their appearances as well. Artists such as Tim Seeley, Gordon Purcell, Jamal Igle, Gene Ha, and Bill Reinhold gave of their time, as did writer Mark Waid. As long as fans were willing to shell out the cash these creators were willing to work the booth.

Each show Hero promotes exclusive products and this year we had the hardcover and softcover editions of Archie: 50 Times an American Icon book for sale.

But the highlight was the vast array of talent on display showcasing all the covers from The Avengers 100 Project. Sean Phillips, Lee Weeks, Steve Epting, Walt Simonson and Alan Davis were among some of the 100 artists who created their own cover to The New Avengers #1. Seeing them all spread out on display at the booth was a sight to behold.

Understandably, many fans came by just to see those covers, which is fine since they usually wound up buying something. On Saturday night, all those spectacular covers had a room all to themselves for a ticketed event called Avengers Mansion. Fans could mingle in a cash bar environment with creators (such as Jeph Loeb, Brian Michael Bendis, Joe Quesada as well as Waid, McCrea and Purcell) in the one and only time where all 100 Avengers covers would be on display.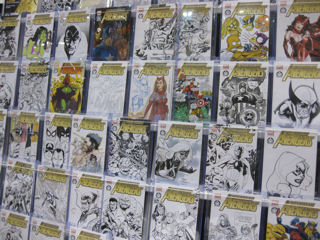 Each story slightly different...

It was a fun and relaxed environment that provided both creators and readers with a opportunity to partake in lively discussions. One lucky winner went home with a custom made New Avengers wine bottle. No, Jarvis' secret winery wasn't raided! This was an empty bottle of wine crafted by Karlton Hahn and decorated with Avengers by artists like: Chris Moreno, Aaron Sowd, Mark dos Santos, Tony Fleecs, and Tim Sale, to name a few.

The well-attended event was the highlight of the weekend, which saw The Hero Initiative raise over $5000! It's always a great feeling leaving a con knowing funds were raised for such a worthy cause.

Of course, I didn't spend all of my time working the Hero booth. Much of my time was spent like anyone else. Waiting in line for for signings, meeting up with people you only see once a year, as well as meeting new acquaintances through friends.

One celebrity highlight for me was meeting Kenny Powers aka Danny McBride, who was promoting Your Highness, his new movie at the Dark Horse booth. He was as laid-back as you'd expect and hinted that he and director David Gordon Green (Pineapple Express) had other projects in the cooker.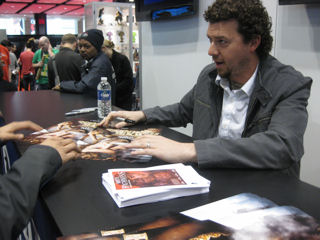 You know what Kenny Powers would say to this...

Like last year, C2E2 has a fantastic Artist Alley and this time I was able to spend some time with friends Sanford Greene (look for his work in the upcoming Dark Horse Presents) and Ryan Benjamin (Batman Beyond).

I also had fun meeting Sean "Cheeks" Galloway and introducing local artist Mike Norton to Black Adam, that is, my friend Ron Langtiw who dressed up as the Shazam! villain, and wound up winning the costume contest as well.

Anyone who's attended cons for years knows It's really not hard to have a good time in an environment where practically everyone has so much in common. I talked to an exhibitor who seemed concerned that there would be a drought of people actually purchasing product. But everyone has a different agenda and spends their time at these shows doing different things.

There you have it, my rundown of C2E2, a con worthy of your time and one that I can foresee getting better (not necessarily bigger) and better each year.