Etiquette & Espionage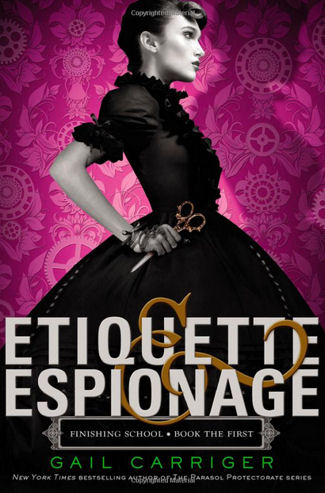 Etiquette & Espionage is the newest Steampunk novel from Gail Carriger. Though a young adult novel, it makes an excellent read for adults as well.
In many Steampunk novels, the author tries to immediately go into details about what makes the world of this novel different from all others. Ms. Carriger, on the other hand, introduces us to our heroine, Sophronia Temminnick, first, then shows us how things are different in this novel. In the first three pages, we learn that Sophronia is a younger sister, is curious, is not afraid of mechanical devices, and that is 1851.
A paragraph on the third page gives you a hint that you are not in Kansas:

"Mrs. Barnaclegoose was a large woman of progressive inclinations --- which is to say she supported vampire and werewolf social reform, played a good deal of whist, kept a ghost in her country cottage, and even wore the occasional French gown. She accepted that dirigibles would be the next great means of transportation and that soon people might fly through the weather. She was not, however, so progressive as to accept flying food. She squealed in horror."

Ms. Carriger's books happen in Victorian England - but with a twist. Werewolves and vampires are part of society and everyone knows they are about. It doesn't mean they are not dangerous, but this is Victorian England and there are rules to obey.
Ms. Carriger's other series, The Parasol Protectorate, emphasizes the werewolves and vampires much more than E&E. This series has the subtitle, Finishing School, but when Sophronia gets to the school she discovers it's a school for female espionage.

There is a mystery that by the end of the book Sophronia, with help from friends, solves. If you have read the Parasol Protectorate's books , you will recognize some names in this book! I recommend this book as well as The Parasol Protectorate books.