Witchblade Comes To A Close;
Long Live Switch!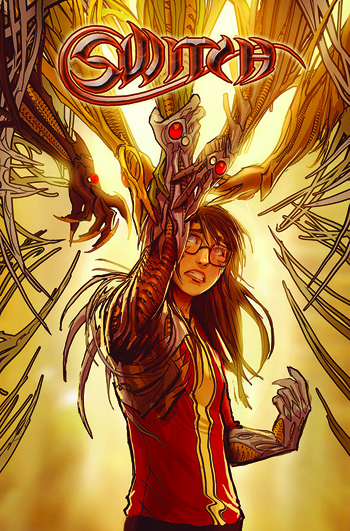 Image Comics sent two Top Cow press releases a day apart, but it's obvious that they're connected, and say something about the changing face of the comics industry.
First, we received information about the upcoming book "Switch," described as a re-imagining of the classic Witchblade story.
It caught my attention because of the creator, Stjepan Sejic, whose book Death Vigil really impressed me last year. Apparently, Switch has been running as a web-comic for some time -- and that shows how slow I've been to adapt web-comic reading on a regular basis. I almost always wait for the print edition.
But it's also the content here that's interesting. In a time when diversity and inclusion has become a hot topic in comics, both in characters on the page and creators behind the scenes, this essentially means that one of the most successful of the "bad girl" craze of the 90s has gotten a redo into something far more accessible for 2015.
I am not ripping on Witchblade; it just never really appealed to me, though I could understand why people liked Marc Silvestri's creation. But as a character (not as a concept, obviously), the Sara Pezzini incarnation seems a product of a specific moment in time and fandom. It's a new era, one which Image tips its hand to in the press release:
Bestselling cartoonist Stjepan Sejic (SUNSTONE, DEATH VIGIL) brings to print his popular web-comic SWITCH. The new Top Cow series gives nod to the classic Witchblade Universe, but welcomes surprise crossover characters and—at its heart—explores the story of a teen girl trying to understand her mysterious new powers. Top Cow's Witchblade meets New 52's Batgirl in this fresh series told in delectable Sejic fashion and hitting stores on October 14th.
In SWITCH, a teenage girl must bear a mighty artifact that grants her immense powers… the catch? It's a bit haunted!
SWITCH #1 (Diamond Code: AUG150506) will be available on Wednesday, October 14th. Final Order Cutoff deadline for retailers is Monday, September 21st.
A bit of New 52 Batgirl? That's interesting, considering that DC's revamp of the character (long after the New 52 relaunch) last year infected the rest of their line, too. Regardless, it's a sensible revamp that could bring a lot of new readers to Top Cow.
And just as I was wondering what happened to the original Witchblade, this press release showed up this morning: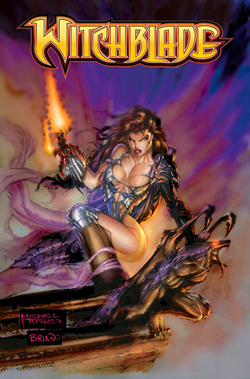 Top Cow's long-running WITCHBLADE series, first launched in 1995 and created by Marc Silvestri, David Wohl, Brian Haberlin, and Michael Turner, will celebrate its 20th Anniversary with a deluxe WITCHBLADE 20TH ANNIVERSARY "ART OF" hardcover, a Commemorative Lithograph, and will come to a jaw-dropping conclusion with WITCHBLADE #185—the final issue.
In WITCHBLADE #185, an era comes to a close with a double-size final issue of Sara Pezzini's twenty-year run. Several previous WITCHBLADE artists return to the title to send her off in style. The story resolves Sara's return to New York, her relationship with Gleason, and her attempt to find a suitable bearer to give the Artifact to. Cover A by Michael Turner can be pre-ordered using Diamond Code AUG150499. Cover B by Keu Cha can be pre-ordered with Diamond Code AUG150500. Both will be available on October 14th.
Image/Top Cow is also pleased to release a deluxe WITCHBLADE 20TH ANNIVERSARY "ART OF" hardcover. This special, over-sized WITCHBLADE hardcover will be a veritable who's-who of comic artists with original content not previously seen in THE ART OF WITCHBLADE. It can be pre-ordered using Diamond Code AUG150570, will hit shelves on October 28th, will be limited to 1,000 copies, and will never be reprinted.
There will also be a limited number of 11" x 17", full-color WITCHBLADE 20TH ANNIVERSARY COMMEMORATIVE LITHOGRAPHs featuring art by Michael Turner available on October 28th that can be pre-ordered using Diamond Code AUG150504.
So the timing is good. Top Cow will bring the original Witchblade to a close on a good anniversary, followed about a month later by a relaunch aimed at the teen daughters of the original readers of the book. It has a really nice symmetry.
But will readers make the switch from the web-comic to the printed page? And will Switched carry the standard for Top Cow into the next era?
As always, we vote with our dollars. All I know is that Sejic is an interesting cartoonist -- and I really like that Sejic gets that creator billing. We need that word reclaimed with honor, to acknowledge those who merge writing and drawing into one terrific package. I think Howard Chaykin would be proud.