Kaboom! Goes Back Over The Garden Wall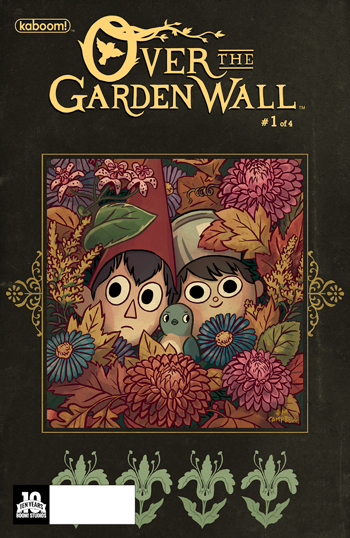 If you love children's stories with actual resonance and a classic feel to them, you need to sample Over The Garden Wall.
Animator Patrick McHale teamed with Cartoon Network Studios last fall for the original 10-part miniseries (still available On Demand and coming on DVD) that people just can't get out of their heads once they've seen it. It's beautiful, it's heartbreaking, and it's simply magical.
It also features Tim Curry in his first role since his stroke, and singer Jack Jones -- maybe best known to you for the theme song from The Love Boat -- proving that he still has those velvet pipes. In short, it's that rare kids' program that can actually be enjoyed by generations together.
Kaboom! (the kids' imprint from BOOM! Studios) released a one-shot tie-in comic to stores last year that quickly sold out, so it's great news to read that McHale and his comics collaborator Jim Campbell are returning to tell another story of lost brothers Wirt and Greg.
But I was one of those who missed the one-shot, so... guys, are you going to reprint THAT, too? My family needs it.
From Kaboom!: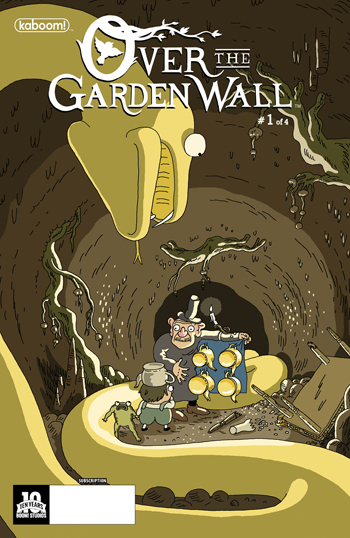 KaBOOM!, an award-winning imprint of BOOM! Studios, and Cartoon Network Enterprises, the licensing and merchandising arm of the network, are pleased to announce that Patrick McHale and Jim Campbell have teamed up once again for a new, four-issue Over the Garden Wall limited comic series. Last November, Cartoon Network debuted McHale's eerily sweet Over the Garden Wall, its first original animated miniseries, about half-brothers Wirt and Greg trying to find their way home. KaBOOM! published a companion one-shot that was eagerly snapped up by fans, selling out immediately.
"We are incredibly excited to dive back into the unknown with Patrick and Jim," said BOOM! Studios President of Publishing and Marketing Filip Sablik. "We adored the Over the Garden Wall animated miniseries here at BOOM!, and this new limited series will allow us to explore even more adventures with Wirt, Greg, the Woodsman, and all our favorite characters."
It's a new Over the Garden Wallstory set between episodes 3 and 4 of the animated series. Wirt and Greg are trying to hitch a ride out of schooltown but end up having to walk. Soon, they come upon two girls playing, and wind up having to keep them entertained so that they don't wake their giant father!
Headlined by an all-star voice-cast that includes Elijah Wood (Lord of the Rings Trilogy), Collin Dean (The War at Home), and Melanie Lynskey (Two and a Half Men), Over the Garden Wall is Cartoon Network's first-ever miniseries, an animated comedy/fantasy story about two brothers, Wirt and Greg, who are trapped in a mysterious world.
In this 10-part production, music plays an important role with a soundtrack full of Americana-influenced original songs. A DVD collecting all of the episodes will be released on September 8. Over the Garden Wall is created by Patrick McHale and produced by Cartoon Network Studios.
Over the Garden Wall #1 (of 4) arrives in comic shops on August 26th with a main cover by series artist Jim Campbell for the price of $3.99 under Diamond order code JUN151090. Also available in a limited quantity is a subscription variant by Adventure Time storyboard artist Steve Wolfhard, a 10 Years incentive cover by Jeffrey Brown (Star Wars: Jedi Academy), and a retailer incentive cover by creator Patrick McHale.
The Final Order Cutoff deadline for retailers is August 3rd. Not sure where to find your nearest comic retailer? Use comicshoplocator.com or findacomicshop.com to find one! It's also available for order directly from boom-studios.com.