Ms. Marvel In Graphic Audio Form!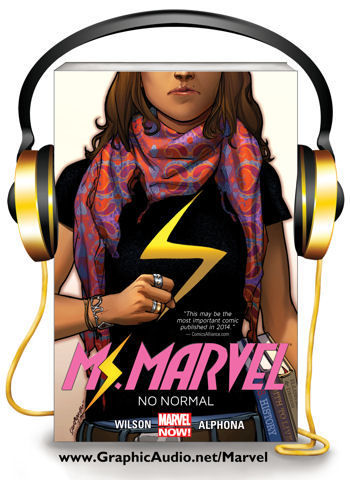 My son and I have recently been getting into this form of storytelling -- for families (assuming you're all Fanboys), it makes a great way to pass the time on long car rides. You're listening to the same story together. Nobody has headphones on (never mind the image to the right). You're taking the trip together.
Graphic Audio mixes regular text with actors performing the dialogue, music, and sound effects to create something quite interesting. It's not the same as comics... but it's really interesting to hear, and a great way to catch up on popular storylines that you may have missed.
And I have no doubt that Ms. Marvel, already a popular character, is about to get even bigger. So why not check her out in this new media that echoes an old?
From Marvel:
EMBIGGEN!! GraphicAudio's adaptation of Ms. Marvel: No Normal has arrived! Full Cast, Cinematic Sound, Digital Sound FX –
You've never HEARD comics sound this good! Available for immediate download at www.GraphicAudio.net/Marvel
[Click to listen to the brand new Launch Clip]
In case you missed all the excitement first brought to you at SDCC, we've got you covered…
You've seen and read about the highly acclaimed and inspirational new Marvel hero, Ms. Marvel. Now hear what she sounds like!
For the first time ever, GraphicAudio has adapted a Marvel character directly from the comics themselves. This is your chance to hear Ms. Marvel issues #1-5 as collected in the trade Ms. Marvel Vol. 1: NO NORMAL. Through cinematic music, a full cast of voices, digital sound effects, you'll be immersed in this mega-hit comic book series like never before!
Now includes bonus roundtable interview with Creators Sana Amanat and G. Willow Wilson and GraphicAudio Director Richard Rohan.
Kamala Khan is an ordinary girl from Jersey City - until she is suddenly empowered with extraordinary gifts. But who truly is the all-new Ms. Marvel? Teenager? Muslim? Inhuman? As Kamala discovers the dangers of her newfound powers and unlocks a secret behind them as well. Is she ready to wield these immense new gifts? Or will the weight of the legacy before her be too much to handle? Kamala has no idea either. But she's here to stay!
Mixed in 5.1 Surround Sound DTS and in Stereo, MS. MARVEL is available at www.GraphicAudio.net/Marvel and via the FREE GraphicAudio Access™ Mobile App which allows customers to directly download titles on their Android or iOS smartphones and tablets.
Order Ms.Marvel Vol.1: NO NORMAL at www.GraphicAudio.net/Marvel today. CD formats and Marvel TPBs also available at comic shops and Inhuman-loving bookstores near you!