Invincible Iron Man: As Many Covers As Suits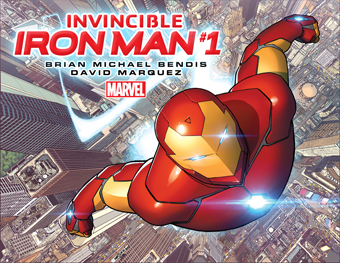 I'm pretty sure the Invincible Iron Man is going to be a good read. With Brian Michael Bendis writing, it's sure to at least be fun.
But I'm running this because -- holy stark -- that's a lot of variants. They're extremely cool. I'd love to get ahold of the Bruce Timm one.
From Marvel:
This Fall, the Marvel Universe is reforged and recharged as All-New, All-Different Marvel kicks off in full force! New titles, new characters, and new creators explode on to the scene as only Marvel could bring you. Leading the charge for this movement is the blockbuster new title INVINCIBLE IRON MAN #1 – from the explosive creative team of Brian Michael Bendis and David Marquez! Today, Marvel is pleased to present your new look at the highly anticipated first issue coming to comic shops on October 7th!
Exploding out of the pages of Secret Wars comes a fresh new take on the Armored Avenger in a gigantic new series! New armor, new villains, a new supporting cast and a new purpose as Tony Stark bursts across the landscape of the Marvel Universe. And a shocker of a last page that will have the entire comic industry talking! Plus, questions will be answered – what really happened at the end of Secret Wars #8? Who are Tony Stark's biological parents? The quest begins here!
Strap in and suit up, True Believer. The marquee comic launch of the fall is coming as Bendis and Marquez armor up to bring you a new Iron Man for a new Marvel Universe. Don't miss the blockbuster INVINCIBLE IRON MAN #1 – on sale October 7th!
INVINCIBLE IRON MAN #1 (JUL150696)
INVINCIBLE IRON MAN #1 LAUNCH PARTY OPT-IN (JUL150706)
Written by BRIAN MICHAEL BENDIS
Art & Cover by DAVID MARQUEZ
Deadpool Party Variant by YASMINE PUTRI (JUL150710)
Variant Covers by BRUCE TIMM (JUL150700), ADI GRANOV (JUL150702),
SKOTTIE YOUNG (JUL150703)
Action Figure Variant by JOHN TYLER CHRISTOPHER (JUL150704)
Hip Hop Variant by BRIAN STELFREEZE (JUL150699)
Design Variant by DAVID MARQUEZ (JUL150701)
Young Guns Variant Set by DAVID MARQUEZ,
SARA PICHELLI, MAHMUD ASRAR, NICK BRADSHAW
VALERIO SCHITI and RYAN STEGMAN (JUL150705)
Cosplay Variant by DALE OLIVER (JUL150698)