Still Hated, Feared, and Here After Secret Wars:
Marvel Launches Extraordinary X-Men #1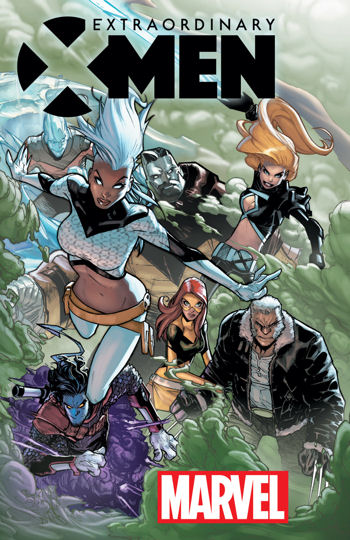 This almost feels like a line-up meant to prove to fans that Marvel still loves the X-Men and of COURSE they'll support the Fox movies. I doubt there's any of that; the X-Men simply are some of Marvel's most loved characters, and you have to keep them going.
But of course, which X-Men are they, besides some of the most popular in forms that are a bit different?
Storm, Nightcrawler, Iceman, and Colossus could very well be the versions people are most familiar with, though aged a bit. (All will likely be featured in X-Men: Apocalypse from Fox.) Magik seems a bit older, too, and possibly plucked out of either Inferno or the pages of A-Force. Jean Grey looks like the younger version from the past, and... well, the clever move from Marvel is Old Man Logan.
They made a huge event out of killing Wolverine, then put the spotlight on an alternate timeline version of the character. Truly, Secret Wars has allowed them to shake things up in a way that no other company crossover could.
Plus, if Logan is an old man, Hugh Jackman doesn't have to give up the role...
From Marvel:
The fate of mutantkind is decided here! Prepare for a new team of X-Men for a new set of threats this fall as the Marvelous Mutants return in EXTRAORDINARY X-MEN #1! Eisner Award-nominated writer Jeff Lemire (All-New Hawkeye, Sweet Tooth) joins chart-topping artist Humberto Ramos (Amazing Spider-Man) for the flagship X-Men title of the post-Secret Wars Marvel Universe!
Eight months have passed. The X-Men are in dire straits. A cataclysmic event that has altered the destinies of both Mutant and Inhuman. Many of the X-Men have gone missing – including their wayward leader Scott Summers. It will take the remaining X-Men to forge mutantkind into something stronger. Something…extraordinary! Now – Storm, Colossus, Magik, Nightcrawler, Iceman, Jean Grey and Old Man Logan will lead mutantkind headfirst into tomorrow.
"The chance to write the flagship X-Men book is a once in a lifetime opportunity," says Lemire in an upcoming interview with Marvel.com. "It's both exhilarating and somewhat intimidating. The X-Men have a staggering legacy and an extremely devoted fan base, so this is not an assignment I am taking lightly. I've poured everything I have into making this book something special. I don't want to write just another X-Men run. I want the work Humberto and I do to stand up with the truly great X-Men runs. "
Welcome to the new Marvel Universe, X-Men – hope you survive the experience! It all starts this fall as Lemire and Ramos bring you EXTRAORDINARY X-MEN #1!
EXTRAORDINARY X-MEN #1
Written by JEFF LEMIRE
Art & Cover by HUMBERTO RAMOS
Coming Fall 2015!
Let us know what you think, via email, Facebook, or Twitter @FanboyPlanet.