Image Expo Unveils
The Books We'll All Be Reading In 2015...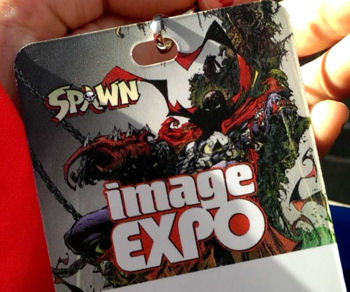 Excitement filled the crisp San Francisco morning as we waited to enter Image Expo (what con isn't complete without a line?).
Once inside the Yerba Buena Gardens Hall, the Expo kicked off with an hour of exciting announcements beginning with a keynote from Eric Stephenson.
Following his keynote, the Image publisher invited authors and artists onstage to announce this year's releases. Some highlights include:
Todd McFarlane
Spawn #250 - January 2015
The 250th issue of the iconic and classic series debuts this year. The digital release of whole Spawn series to coincide.
Spawn Resurrection #1 - January 2015
A short story to be released alongside Spawn 250 for those who need a first issue to start the series.
Savior #1 - April 2015
McFarlane describes this mini-series as, "The man trying to do the most good is considered the most dangerous man in the world...Organized religion would not be happy about it."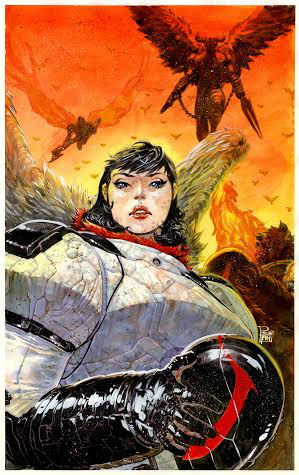 James Robinson with Philip Tan
Heaven - 2015
Robinson uses sci-fi for political satire in this new series where Earth goes to war with the angels in a clash that will span dimensions and space. It will feature characters of all kinds, including soldiers, politicians, and spies.
Brian Wood
Starve - May 2015
Set in near future where celebrity chefs are regarded as royalty rather than just celebrities. Wood describes it as Anthony Bourdain meets Spider Jerusalem.
Black Road - Sept 2015
VIKINGS! What else do you need to know? Wood returns to the Viking genre for first time since his popular Northlander books from Vertigo.
Brandon Graham and Emma Rios
8house - 2015
A collaboration between Graham and Rios, 8house is the first introduction to their new fantasy universe that they have invited additional collaborators to explore and write about. Graham collaborates with Marian Churchland for Arclight and Emma Rios will collaborate with Hwei Lim for Mirrors.
Island - June 2015
Graham describes Island as a comic magazine similar to Heavy Metal but "with less of a teenage boy feel." Each oversized issue will feature 20-30 page contributions. Ludroe, Marian Churchland and more will join Rios and Graham for the first issue.
Kelly Sue DeConnick and Emma Rios
Pretty Deadly v.2 - September 2015
This second installment of their fantasy-western collaboration will be released in September. Jumping forward in time, it will follow Sarah's son, now a young man, in the WWI trenches and his mother's dying wish to see him. DeConnick assured the crowd that it would still maintain the western feel that fans love while moving forward into this new setting.
Emi Lenox
Tadaima - 2015
An autobiographical book in which Emi Lenox travels to Japan with her mother to visit her grandmother's tomb. The comic explores the guilt of not visiting sooner and the experiences she has spending seven straight days with her mother.
Jeff Lemire and Emi Lenox
Plutona - 2015
Focusing on a group of kids when they discover the body of a well-known superhero, Plutona promises to be a dark character study of the five children.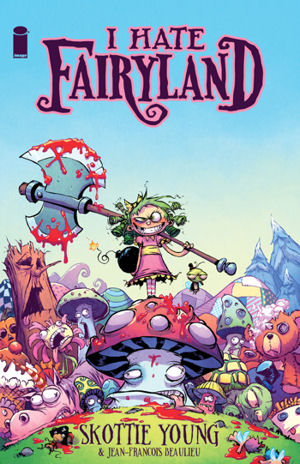 Skottie Young and Jean-Francois Beaulieu
I Hate Fairyland - Fall 2015
What if Alice stayed in Wonderland for 30 years? She would probably hate it the same way Gertrude, the main character in I Hate Fairyland, does. Especially appropriate for any parents tired of reading the same fairy tales over and over to their kids.
Scott Snyder
A.D. - After Death (with Jeff Lemire) - Nov 2015
What if there was life after death? Or a cure for death? Snyder explores these questions in A.D.
Brian K. Vaughan
We Stand Guard (with Steve Skroce) - Summer 2015
In the near future, the United States uses giant robots to invade its fair neighbors to the north. A small group of Canadian freedom fighters band together to fight the invaders.
Paper Girls (with Cliff Chiang) - 2015
In the early hours of the day after Halloween, a group of young girls encounter something that will change everything.
Marjorie Liu and Sana Takeda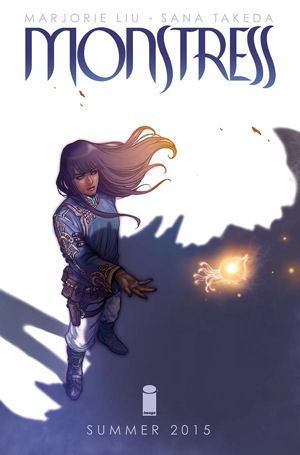 Monstress - 2015
In an alternate Victorian time, humans are fighting over the control of spirits and monsters that occupy the same world as we do. Then one day a young girl wakes up with a psychic connection to the most powerful of the monsters. What will happen next?
Eric Canete and Jon Tsuei
Run Love Kill - April 2015
Expect a lot of running, some love, and a lot of killing in Run Love Kill. Set in a sci-fi universe, it centers on a fugitive and her story.
Kieron Gillen
The Ludocrats - Summer 2015
In this twisted, opulent comedy, Gillen promises a bizarre story centering around two people who are the last defenders of a ludicrous aristocracy. It sounds insane, and promises to be a fun ride.
Phonogram (with Jamie McKelvie) - 2015
Gillen and McKelvie return to the popular series with this new installment. I'll admit that I''m incredibly excited about this. Phonogram is the series that got me into comics in the first place, and the promise of finally having the next installment in this series brings me great joy. Focusing on Emily Aster and how she became who she is, this installment will draw inspiration from 80's New Wave and a-Ha's "Take On Me" video.
Darwyn Cooke
Revengance - June 2015
Though he was unable to attend the Expo, Cooke showed up in a prerecorded talk introducing his first creator-owned project. He describes it as a thriller with some dark humor thrown in.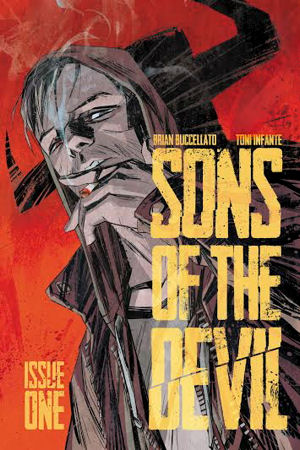 Brian Buccellato and Toni Infante
Sons of the Devil - Spring 2015
In Sons of the Devil, the main character learns he is the son of Charles Manson. The resulting story explores the darkness of humanity, and more importantly, what it would be like to know that your father wants to eat you.
Alex de Campi, Carla Speed McNeil, and Jenn Manley Lee
No Mercy - 2015
A group of teenagers are in South America for a service trip when their bus drives off the side of a mountain. This promises lots and lots of drama and emojis.
Chip Zdarsky and Kagan McLeod
Kaptara - April 2015
Set in a world that feels like playing with your childhood action figures, Kaptara is both comedy and drama. Zdarsky insists it should be referred to as a "gay Saga."
Lorenza Shabe is a writer and video enthusiast. She can be found on your local internet at:
http://advinadulthood.tumblr.com/
Twitter: @plunkster