Super-Con San Jose 2008:
Photos From The Floor
"Are you someone famous?" the girl asked as I sat at the Moron Life booth, where Lon Lopez had graciously allowed me to park my stuff. I smiled and said, "not yet, but you never know..."
Her confusion was understandable, not because of anything I've done, but because I sat between Steve Oliffe, one of comics' greatest colorists, and Terry Moore, the creator of Strangers in Paradise, the current Echo and about to relaunch Marvel's Runaways. To me, those guys were famous, but we still weren't Jorge Garcia or even unexpected man-crush Wil Wheaton.
Yes, Super-Con 2008 had hit San Jose, and it was hot inside that convention tent. Steve Wyatt gathered an eclectic group of guests that really did provide something for everyone -- if everyone had come. Maybe it was the economy, maybe it was the heat, but the show didn't seem quite as full this year, and that was a shame, because in addition to Lost's Hurley and blog-darling Wheaton, you could have been served cake by Jane Wiedlin. And I mean that literally.
Thanks to Steve Wyatt for letting Fanboy Planet cover the event (we've got interviews coming in conjunction with Moronlife.com), and thanks to the Moron Life crew for letting me hang around. In the last words of Captain Kirk, "...it was ...fun."
All photos by the kind Clay Robeson, no relation to the fictional Kenneth Robeson.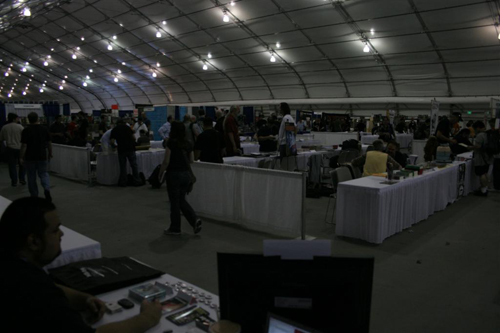 Wisely, Super-Con put some talent right upfront this year, as well as a room for panels...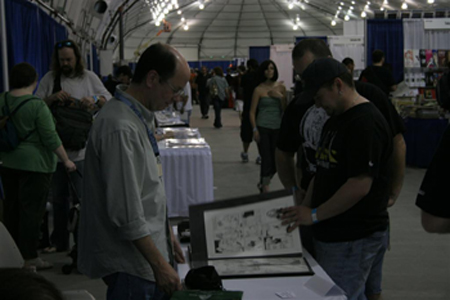 We sat next to Terry Moore. A great creator, a great guy and ...no. We didn't interview him.
Perhaps it was because we were morons. That's all I can think.
But I did recommend a good taqueria to him.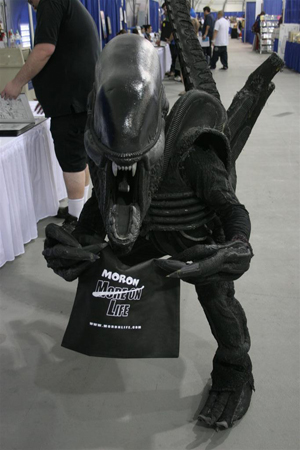 In space, no one can hear you
watch a Public Access cable sketch comedy show.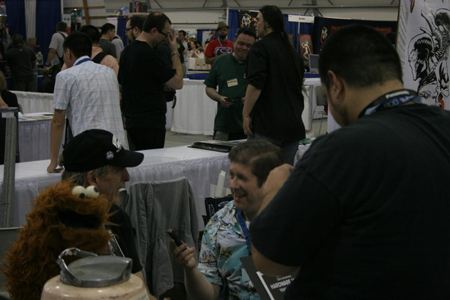 A high point for me...interviewing Ernie Fosselius, the creator of Hardware Wars...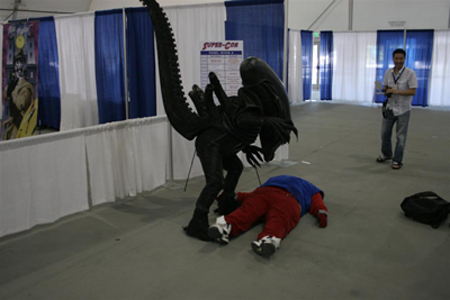 Go ahead. Say this is how the Clone Saga ended. No one really remembers anyway.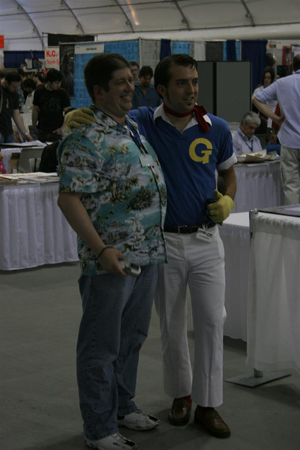 Speed Racer is not a man to let box office results get him down.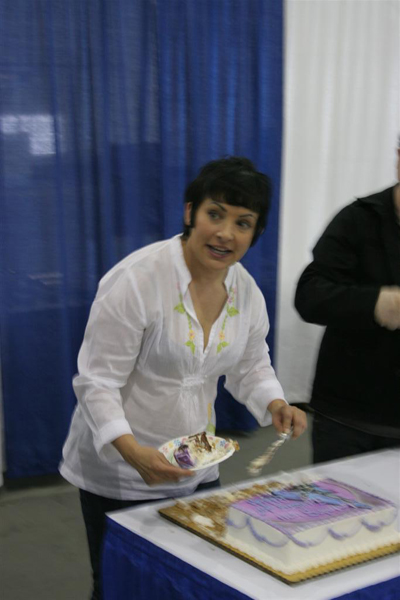 I used to dream about a Go-Go serving me cake...