Comic-Con 2007: The Jokers Invade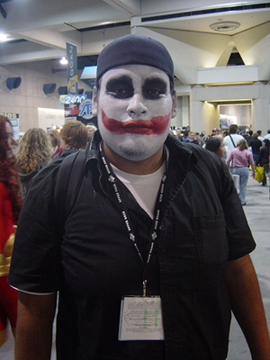 Two days ago, he was just another fanboy...

For several weeks, Warner Brothers has insisted that while several of their films would receive exposure at Comic-Con 2007, the hotly anticipated The Dark Knight would not be one of them.

Currently filming in Chicago, this sequel to Batman Begins has had a couple of cool publicity moments, mostly revolving around a website promoting crusading District Attorney Harvey Dent. After registering on that one, the screen dissolved to reveal Heath Ledger as the Joker for the very first time.

Rather than present at Comic-Con, Warner took the stealth route and co-opted the fans. Word got out about a website called Why So Serious? which featured a countdown to 10 a.m. on Friday.

Fans were given a number to call, which sent them gathering at one of the parks outside the San Diego Convention Center. There began a scavenger hunt that turned ordinary citizens into the hardened Joker's Crew.

First they found bags with make-up kits suitable for Jokerizing. Over 50 fans swarmed the Gaslamp District in search of a man with balloons full, one must assume, of Smilex, who told them to go steal cookies from a Girl Scout.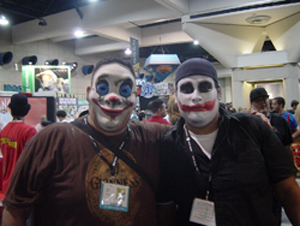 Brothers of the Clown...

One of the city's fine (and I mean fine) pedicab drivers wore an approximation of a Girl Scout uniform and cried as they took her cookies.

Just as their crimewave reached its peak, a van drove up, kidnapped one of the Jokers and sped away. For their trouble, the fans each received a Clown mask similar to the one we've seen in publicity photos for The Dark Knight.

They were also given a web address for the teaser trailer, currently up at whysoserious.com along with a bulletin from the Gotham City Police Department. That bulletin details the heroic efforts of the GCPD to detain the Jokers.

A clever campaign that got a few fans really excited for the film. On the other hand, they'd have reached 6,000 if they'd brought it all to Hall H. Yet somehow, this seems more fun.

Special thanks to the participants who gave me all this information but not their names. Hopefully, you guys will see this and let me know who you are.