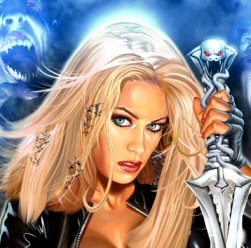 "It's my first time."
Comic-Con 2007:
Jenna Jameson, Virgin Superhero
It's not that much of a stretch for America's most beloved porn star to appear at Comic-Con for the first time. Despite efforts to "clean up" the show for families, there's still a lot of prurient interest from attendees.
But it's a bit of a surprise that Jenna has joined the Virgins -- Virgin Comics, which has recruited creators like Nicolas and Weston Cage, Guy Ritchie, Dave Stewart from the Eurythmics and John Woo to put their spin on comics characters.
This morning Virgin Comics sent out the word that Jenna would be appearing on behalf of the publisher, and has created the concept behind Shadow Hunter. So check out Virgin's announcement, and click on the image up right for a full-on picture of the Greg Horn teaser image Virgin sent out.
From Virgin Comics:
World-famous entrepreneur, adult entertainment icon and New York Times best-selling author Jenna Jameson is creating and staring in her own series of comic books, it was announced today by Virgin Comics CEO, Sharad Devarajan, at Comic-Con, the industry's annual super-festival in San Diego. The series, titled Shadow Hunter, debuts in comic shops and online comic retailers in December. The complete 144 page Shadow Hunter book will be available in June 2008 at all major book sellers. A new site, JennaComix.com will host additional information, previews and pre-orders of the comic art and books.
Shadow Hunter is the story of a provocative superheroine who survives a brush with death only to find herself fighting the legions of hell for her very soul. Cover art for the first issue has been created by Greg Horn, a top illustrator of comic books and video games. The story, while provocative and sexy, contains no nudity and is intended for a mainstream audience.
"Jenna Jameson is a cultural force," said Virgin Comics CEO Sharad Devarajan. "She is an entrepreneur who is taking the taboo to the mainstream and has built an industry around her brand."
"I'm thrilled to be collaborating with Virgin to bring this story to life, first as comics and eventually in film and other formats," said Jenna Jameson. "Working with comics is creatively liberating – everything is possible. My character is sultry, sexy and kicks ass!'

"Jenna brings a defiance and edge to everything she does, said Gotham Chopra, Chief Creative Officer of Virgin Comics. "She's a provocateur and there's no doubt that our creative team at Virgin is going to have a blast collaborating with her. I can assure you every artist we have in our studio is vying to get assigned to this project!"
San Diego Comic-Con is preparing for record crowds when Jenna makes her very first appearance at this event that attracts more than 100,000 fans. Jenna will be speaking about Shadow Hunter and signing autographs for fans on Saturday afternoon, July 28 at 4:30 PM. Images from the series will be available from the Virgin Comics booth at the San Diego Convention Center.