Comic-Con 2007:
There's A New Green Hornet In Town...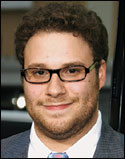 What if this guy fought crime in your city?
Update, 7/28/07: At last night's Comic-Con screening of Rogen's Superbad, a fan asked if he was really doing The Green Hornet. With no trace of irony, Rogen confirmed that yes, he is doing the project, and that he intends to make it a serious action film, not a comedy as many have feared. (That's a paraphrase. I really doubt he cares what we feared. But thanks anyway for committing to do this right.)
Variety announced this morning that Columbia finally believes they've got the right man for the job of The Green Hornet. Writer/actor Seth Rogen has been tapped, along with his partner Evan Goldberg to finally steer the character to the big screen. At this time, he's writing and executive producing, but Variety makes it plain that Columbia intends for Rogen to star as well.
It's been a long and torturous road for Britt Reid, millionaire newspaper publisher and nephew of The Lone Ranger. (Though, shhhhhh, Uncle Ranger is owned by a different company and being produced by Disney.) Both Universal Studios and Miramax have tried to produce a Green Hornet movie, attaching George Clooney, Mark Wahlberg and recently Jake Gyllenhaal to star at various times. A couple of years ago, Harvey Weinstein convinced Kevin Smith to write and direct a version, to much sound and fury.
Back in March, Producer Neal H. Moritz brought it over to Sony, and this is the result.
It's hard to know what to make of the announcement. No one can contest that Rogen has talent as a writer. Despite his presence in such fanboy-friendly comedies as The 40-Year-Old Virgin and Knocked Up, his actual knowledge and interest in genre stuff has always seemed more mocking than truly knowing the material. If his appearance in the upcoming film Fanboys is any indication, we're still more on the mocking side.
Then again, if he stars as Britt Reid, how could this be a serious film? I'm all for the doughy action hero, but are we ready for a doughy superhero?
Allegedly, Rogen will appear next week at Comic-Con to talk about the project, a further step than any studio has taken with it in years past. So it's real. He's serious about doing it, even if it won't be serious. And now we really have to be at the Sony panel.