Comic-Con 2007:
Day 1 - Taking It To The Limit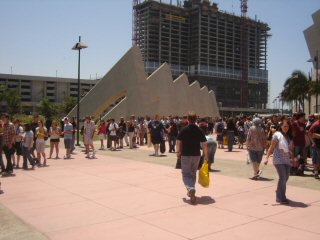 Stretching all the way around the building...

Thursday marked our second day at Comic-Con, and the official first day of programming for the convention. Lots of panels and events planned and more importantly some big announcements that got the show off to a big start. Most noticeable: the huge line of fans waiting outside to register in a line that stretched out from the convention pavilion all the way to the street. Comic-Con is crowded. Did I mention that yet?

Today offered lots to see; unfortunately our three man crew could only get to cover so much. Why is that, you might ask? When the convention isn't so packed you can travel somewhat freely from panel to panel and get a lot of coverage done. When it's as jammed crammed as it is this week, a reporter needs to plan on what panels are most newsworthy and then sacrifice the others to get the story. Then most of the time is spent waiting in line for said panel and a good chunk of Comic-Con is spent in transition. Makes the price for the four day pass seem reasonable, don't it?

However, I'm making it seem like it's all depressing and not fun. Ah, true believer, it's the contrary, because once you make it inside the giant convention hall that you've been waiting to get into for four hours, magic awaits you. The power of the con is that the convention can at first make you wonder what you're doing there, and then after one awesome panel make you wonder why you haven't been going there every year, and this year didn't disappoint.

The first big panel of the day was a presentation from Paramount Pictures featuring spots from upcoming films, Hot Rod ( Featuring SNL's Andy Samberg), Stardust (with an appearance from creator Neil Gaiman), Beowulf ( with a second introduction of Neil Gaiman), The Spiderwick Chronicles, The new JJ Abrams untitled monster movie, Marvel Comics Iron Man ( with a live appearance from director Jon Favreau), Indiana Jones 4, and a new re-launch of Star Trek.

Hot Rod's spot was short and a humble Samberg and his Lonely Island boys took questions from the audience and left with an encouraging message to all the up and comers that were once like them. Neil Gaiman chatted up the film based on his book Stardust and showed an extended scene from the movie as well as the trailer from the motion capture version of Beowulf.

This was followed by a long and dull presentation from The Spiderwick Chronicles. Luckily the room was picked up by a rapid appearance by JJ Abrams and a sneak peak of his new untitled monster movie. He also dispelled the rumor that his film was titled Monstrous and told the fans that he wouldn't have any more info on that project for another six months and he quickly exited.

Next up came a tease for a recorded Iron Man bit from John Favreau who warned that the footage he was about to show was very rough, and it turned out it was an old Iron Man cartoon. Favreau then lit up the crowd by then appearing live and debuting never before seen footage of the upcoming super hero in a can flick, Iron Man. The fans drooled and cheered and Iron Man Hype begun.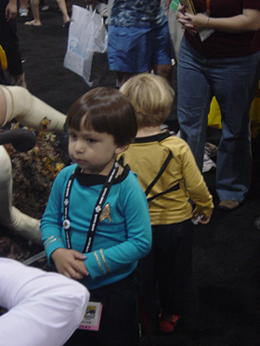 We have a new, much younger Spock!

Then a recorded presentation from the Indy 4 crew came on the screen featuring director Steven Spielberg and Harrison Ford in full costume and looking younger than ever. The big surprise announcement was the revelation of the return of past Indy character Marion Ravenwood played by Karen Allen.

Finally the house was brought down with the new Star Trek presentation. JJ Abrams returned and announced who'd be playing Spock in his space show re-launch. Turns out it's Heroes baddy Sylar – Zachary Quinto. And in what is sure to go down in Comic-Con history, Leonard Nimoy appeared and shook hands with Quinto in what was obviously a passing of the torch from the old generation to the next. It was truly a geektastic end to a geektastic panel.

The other panel we were able to get into after a three hour wait was the LOST panel with show producers Damon Lindelof and Carlton Cuse.

The hall quickly filled up and the panel was mostly a Q and A session with the guys, until an obviously planted questioner asked about former LOST cast member Harold Perrineau and his current status on the show. That's when Perrineau made a surprise appearance to loud applause and much appreciation. The panel ended with an exclusive Dharma Initiative training video that, in true LOST fashion, left the crowd with more questions than answers.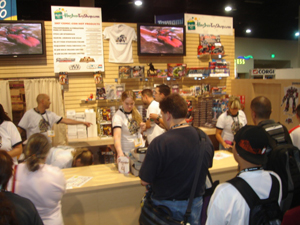 Standing in line for 30 minutes to buy
an exclusive Stan Lee action figure?
Priceless.

Other than that, my only other foray into the convention today was a stop at the Hasbro Toy Shop to purchase my con exclusive Stan Lee Action figure. Unfortunately, I was held up in line by a woman who came with a huge list and an attitude to match. Buying up as many con exclusives as she could, it was obvious that these action figures wouldn't be enjoyed by fans of the con per se, but most likely would end up on for sale somewhere else for a steeper price. Just like my heart will be next year… thanks Comic-Con.

Finally, on somewhat of a sad note, convention programmer Gary Sassaman announced that he would be stepping down in his role and passing the reigns to Ed Ibrahim (sp?).
I had a chance to work with Sassaman in the past at Wondercon and he was nice and smart and he always kept the con running smooth and sound. He's usually seen supervising the entire events with very few lunch breaks and rests. He's been a true value to the Comic-Con and his hard work will be missed. Thanks Gary.

As for the rest of you…

See ya on Friday!