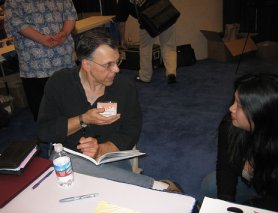 Howard Chaykin explaining why Hawkgirl goes braless.
WonderCon 2006:
Building a Universe
It's February, and that can only mean one thing: Fanboys and Fangirls are eagerly awaiting WonderCon 2006 with baited breath. Well, dust off your favorite cosplay constume, pull out a huge stack of comics to get signed, and empty out your change jars because WonderCon has arrived in full force.
Opening day at WonderCon is pretty slow going in comparison to the fanfare and more robust programming reserved for Saturday, which is pretty much the marquee event of the 'Con. However, Fridays are essential for budget-conscious Fanboys and Fangirls who can usually scrape out some pretty interesting finds on the convention floor whether it be discounted merchandise, booth exhibits or running into your occasional pop-culture icon or comic industry professionals.
Amongst the browsing crowd specifically on Friday were fan favorites including Peter Mayhew and Sergio Aragones. Over at the DC Comics booth, Bruce Timm was spotted looming around and was even gracious enough to offer a few autographs to some keen observers. Howard Chaykin and Mark Waid were also on hand to do some signing and discuss some of their recent projects.
Frank Miller was also spotted on the floor, and drew a large crowd to his autograph signing booth in the later afternoon. Eric Powell, the 2005 Will Eisner Award winning creator of The Goon, was on hand to do some signing at the Dark Horse booth, and even offered fans a free issue of The Goon to get things going. If you haven't checked out the book, do so soon.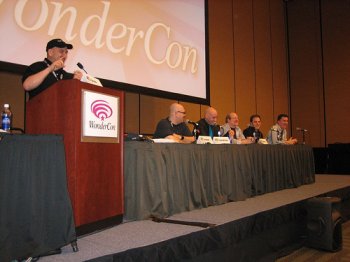 The Architects of a New Univ...wait, let's check the trademark.
(l. to r.) Dan DiDio, Greg Rucka, Grant Morrison, Geoff Johns and Steve Wacker.
Also, more hair than you usually collectively see at these things.

We ended the otherwise quiet day with a treat, the DC Panel: Modern Architecture: The Architecture of the DC Universe. W ho better to facilitate a discussion of DCU architecture than Dan DiDio? The rest of the panel was comprised of the very core of the DCU regime as we speak, including Greg Rucka, (whom DiDio claimed wishes to discuss "buildings"), Grant Morrison (whom DiDio offers a disclaimer for "Listen closely folks, that is a real accent" and claims he wishes to discuss "cars"), Mark Waid, and special guest additions Geoff Johns and "52" editor Steve Wacker.

DiDio kicked off the panel by noting that this seemed to be, with its included guest panelists, the first public appearance of the creative team behind 52. A little bit of time was spent clarifying the order of events on a timeline, making a note that this seemed to be a common confusion. Just for the record, although we're finding it difficult to believe that this concept is really as confusing as some make it out to be, following Infinite Crisis there is a one-year gap between the last issue of that book and the point in which each title "jumped" one-year later. This gap will be covered in the weekly series, 52.

Got it? Good, because there will be a quiz, according to DiDio and company.

One moment of note came early on, as the editor attempted to clarify some of the thought process behind the Infinite Crisis event and the subsequent run-off events of both One Year Later and 52. Didio attempted to explain, but seemed to catch himself before giving away too much. "Once we come back with that multiverse…wait, that's not true…"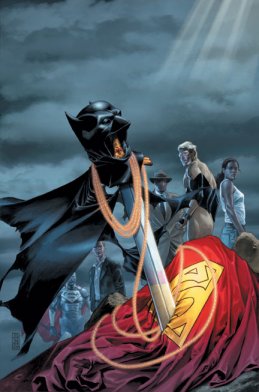 How do you keep comics fans in suspense?

Geoff Johns smiled, and shook his head as if DiDio had ventured into some dangerous waters with his statement. Whether or not this actually means the multiverse is back for good remains to be seen. The point? The weekly 52 series will provide the newly rejiggered DCU with both structure and layout, answering key questions including "is there magic?" and "how many worlds are there?"

DiDio quickly turned the panel over to Q&A, the first of which was aimed at Grant Morrison and his Seven Soldiers series, inquiring where the concept for the homeless subway pirates generated from.

Grant replied, "I wanted to do a pirate story but all the good ones had been done already. I think I'd been watching Gangs of New York, and I like the top hats." He also claims to have been inspired by the thought of what could happen when "people take control of the subway trains, and the damage they may do…it just seems so right."

The next question was geared towards Geoff Johns, specifically regarding a possible Earth 2 ongoing series to which he replied that there are "no plans right now for an E2 series…yet."

DiDio then offered that they realize how fond some fans are regarding Earth 2, and that "part of what Infinite Crisis is all about is a celebration of all these stories, heroes vs. heroes" and that issue number 5 will definitely be examining more of what will happen when various characters meet heroes from other Earths.

One question seemed to open up the discussion in a broader sense regarding the series. A fan questioned whether or not there was something broken within the mainstream DCU that required the attention of a rebuild, and thus spawning the Infinite Crisis.

Mark Waid explained that "everything goes in cycles. The DC books had become a bit darker, more grittier, and a bit too much in some cases." He pointed out that it is important to remember that the DCU heroes really do like each other essentially and although disagreements and arguments may spring up, these heroes are for the most part, a family. "It's a nice chance to get back to this notion. There should be balance to it."

DiDio revamped the question and tossed it to Steve Wacker, asking him to touch on the overall message behind the 52 series. "The stories of heroes move like a pendulum," he explained, saying that you tear them all apart and they slowly swing back to a balance, and "that's what Crisis is about, getting back to..." the classic place. Greg Rucka added that "in the cyclical nature you want to come back to the core truths of the DCU."

Apparently it would seem that Infinite Crisis, and the approach to the heroes within the event, was really sort of modeled in theme to the manner in which Johns handled the return of Hal Jordan. DiDio explained that "a lot of what Geoff did with Green Lantern was, trying to remember everything that made that character so strong" in an effort to return to that core value of the character.

Johns stated that this was a tough approach because "you want to find an iconic level, but still incorporate everything that has been done," and in the case of Green Lantern, you still want to retain Kyle Rayner, and every development that occurred following the Parallax incident.

Will there be a place for the Metal Men in the post-post-Crisis DCU? According to Grant Morrison, "Metal Men? Yes. Definitely."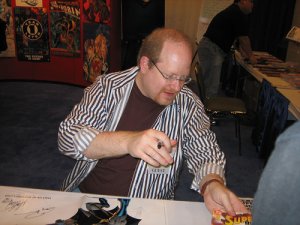 Mark Waid signing in cycles...but is he appearing before or after
Infinite Crisis?

As far as progress on 52 goes, Wacker quipped that "the book's done, and we're just waiting to ship." All jokes aside, fans will be treated to an added bonus with each weekly issue. It appears that each issue will have a 2-page backup secret origins feature written by Mark Waid and illustrated by top talent. Steve mused that 52 is "gonna be $2.50 a week but it will be the book you would be willing to pay $5.00 for." Grant quickly added, "or $10."

It sounds like the DC creative team is extremely proud of the work on 52, and all cannot wait to start hearing reactions from fans to the series. DiDio contested that 52 isn't any kind of solo act in the least. He explained that it would be one thing entirely to have any one of the talents on stage working on the project, but by having them all collectively adding to the series fleshes it out more. "I've got a rock band writing a comic," he mused.

It seems that almost every character will be in it at some point and although the series will be following six of DC's core characters threading their way through the main issues, the book will remain more free flowing, and never spotlighting. Each characters involvement plays into the bigger puzzle, like lost. Characters will be touched equally, not relegated to feature issues

One interesting tidbit was the clarification of the placement of Seven Soldiers in reference to Infinite Crisis. DiDio had previously revealed that the series was, in fact, post-Infinite Crisis. Morrison explained that "it's only related to post-Crisis in that some of the characters who show up after Infinite Crisis first appear in Seven Soldiers. It's my opinion that Seven Soldiers takes place the week before Crisis."

DiDio quickly retracted his previous announcement stating that "it was my fault, I originally thought he said the week after…I couldn't understand the accent." Everyone laughed.

Add this to the collective stew of post-post-crisis issues to be mulled over.