The Fanboy Planet Gift Guide For 2006
Part 1: The Books
You're here because you either are a fanboy or you know one. Quite possibly you want to try and convert someone to your cause. Whatever the case, we're committed here to steering you towards some nifty items this holiday season that will achieve your ends, nefarious or not.
Today we start with the books, because for most of us, that's where it started. Plus I'm organizing this by alphabetical categories. Some of these items are big ticket things that we know people really, really want and some are things that you should know about because they just might be a big hit.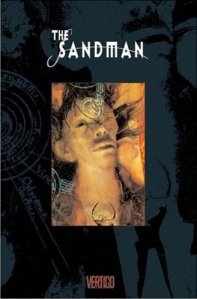 Absolute Sandman v. 1
On one level, this feels like you're buying the third tricked out edition of a DVD, this time with all the special features we really meant to put in before. What the Absolute Editions offer, however, is the art at a much larger size, a much finer paper and yes, a lot of special features that DC really meant to put in before except no, they didn't, because sometimes you need a little perspective. The first twenty issues of Neil Gaiman's breakthrough into comics gather together in one sleek dark volume that people are going nuts over. This includes the arc known as "A Doll's House," which really made people realize Gaiman was up to something cool, and the story "A Midsummer Night's Dream" which DC really should be making available to high school English classes all across the country. Parents disturbed by the cover should take heart. Inside is much beauty. The book lists for $100, but Amazon (and other places, certainly) will cut you a better deal than that.
The Absolute Sandman, Vol. 1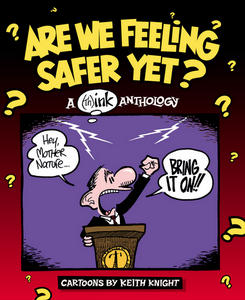 Are We Feeling Safer Yet?
A (Th)ink Anthology by Keith Knight
I am so glad to live in a world with the wit of Keith Knight, and a little sad that I live in a world that so desperately needs him. No, he's not a superhero. He's a talented cartoonist that uses his skills to skewer American culture to the right and left whenever it's being stupid. Perhaps best known for his strip on Salon.com, The K Chronicles, Keith also syndicates (Th)ink to several weekly papers. Each is a single panel that's razor sharp, whether he's mocking our government or seeking (a personal favorite) raparations. Full disclosure: I've met him at conventions and he seems to be a heck of a good human being, too. This is a great book for that workplace gift exchange, or just for that thinking person in your life (you must have some) who could use a good, if sometimes rueful, laugh. You can buy it from Amazon or give Keith as much of the profits as possible and go to his site, www.kchronicles.com.
Are We Feeling Safer Yet? A (Th) Ink Anthology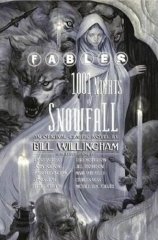 Fables: 1001 Nights of Snowfall
We've talked about it on our podcast on more than one occasion, and gotten the name of it wrong every time. Yeah, that doesn't sound like we love it, does it? But we do. Aside from Fables being the guaranteed trade paperback to get someone hooked on comics, this beautiful hardcover from Vertigo could stand alone as just a cool story with some skewed visions of how your favorite fairy tale really happened. But it's also a great way to fill in some blanks for those that have been reading Fables all along. Snow White serves as envoy to the Middle Eastern fable worlds and accidentally gets put in Scherezade's place. In order to stay alive, she tells the origins of several of Fabletown's residents, each illustrated by a different giant in comicdom, and each perfectly matched with that giant. It's a must have, and if the fan in your life balked at the $20 price, put this under his or her tree.
Fables: 1001 Nights of Snowfall (Fables)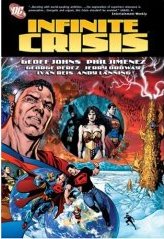 Infinite Crisis
Why? Because DC did not have this quite as well-planned as they wanted us to think, and even if you bought the original issues, you don't really have the story the way it was meant to be. Or maybe Superboy Prime sent a continuity wave through our reality, and the collected edition just makes more sense than the individual issues. This is one of those books that has fans torn. On the one hand, we don't want to support this kind of blatant re-writing so soon after a company bobbled it in the first place. On the other hand, we want to know how they fixed it. Be kind. Reach out and help the fan in your life through this quandary and just give it to him for Christmas. It's not going to help him sort through "One Year Later," but it may give him a modicum of geek peace.
Infinite Crisis (DC Comics)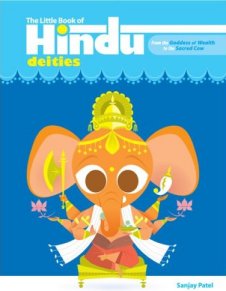 The Little Book of Hindu Deities
For the person in your life that might want to explore other cultures this Christmas, Plume Books releases this neat little volume that they shockingly co-categorize as "Religion/Pop Culture." Despite its poppiness, this book by Sanjay Patel does a clean job of explaining various deities and mythological touchstones in Hindu theology, all while making it cuter than it has a right to be. So what makes it Pop Culture? Patel also works for Pixar, and if you've ever picked up one of those great Pixar art books from Chronicle Books, then you've seen his pre-production art. This doesn't mean we're going to see an animated Ramayana any time soon, but that might not be out of the question up there in Emeryville. It's informative, reasonably priced, and just a fun thing to have on the bookshelf. It also makes you seem so much more worldly. Let that be a good thing for 2007.
The Little Book of Hindu Deities: From the Goddess of Wealth to the Sacred Cow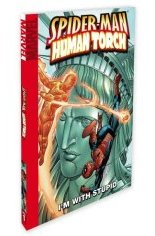 Spider-Man Human Torch: I'm With Stupid
I had to throw in this little Marvel gem, because it's perfect for kids between 9 and 12. Not only does it chronicle the friendship of two popular characters, it's done so with a great balance of humor and adventure. Dan Slott and Ty Templeton delivered this cool mini-series that pays homage to the comics you may remember reading as a kid without talking down to the kids of today. It's also digest-sized, so you might slip it into an unsuspecting manga fan's hands and get them hooked.
Hey, we do whatever we have to.
Seriously, though, this collection really was one of our favorites from 2005, and it's a shame that in the midst of Civil Wars and World War Hulks that there doesn't seem room for Slott and Templeton to reunite for some more.
Spider-Man/Human Torch: I'm With Stupid (Spider-Man Digest Size (Graphic Novels))