Comic-Con 2005: The Fountain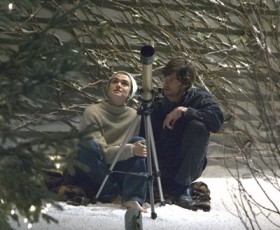 Not Brad Pitt and Cate Blanchett in Australia...

For a while, it seemed like making The Fountain would be as hard as finding the actual Fountain of Youth. Six years ago, writer/director Darren Aronofsky (Pi, Requiem For a Dream) wrote a script, landed a star and started building sets in Australia. Two weeks ago, he appeared in San Diego with different stars from a soundstage in Montreal.

Finishing up Friday's Warner Brothers presentation, audiences first got a trailer, then a taped introduction from Hugh Jackman. It was double duty for one of Comic-Con's favorite actors, as he also had a taped segment playing continuously at Dreamworks' booth, promoting the Aardman project Flushed Away. Stuck on the set of X3, Jackman hammed it up for a crowd he could not actually see, but who loved him for it anyway.

Finally, the video star introduced Aronofsky and Rachel Weisz, though at first Aronofsky entered alone. Hemming and hawing his way through a preamble, the unassuming artist presented roughly the first ten minutes of The Fountain, self-deprecatingly warning the audience, "if you don't like it, tell me. There's still time to change it."

What followed was only a little hard to follow. Beginning with a lengthy segment set in the 16th Century, Jackman cut a dashing but unkempt figure as a Spanish explorer. Quelling a rebellion among his own men, he then leads them into a temple where natives slaughter everyone but him. Just as death seems certain, the film leaps forward a thousand years to Jackman as some sort of space Buddhist monk. He whispers his love to a tree that generates the spirit of Weisz and..well, it looked as potentially mind-blowing as Jackman described it in his introduction.

"Does it look real?" Aronofsky nervously asked. "It'll get better." He has time, too, as the trailer only offered that The Fountain would be released sometime in Winter 2005...or could it be 2006?

The lovely Rachel Weisz joined Aronofsky on stage, and both stood rather than sit at the long tables set up for them. Perhaps because Aronofsky's film seemed much more complex than even V For Vendetta, the audience questions split more evenly between Director and Star.

When asked what attracted her to the project, that star did let slip one intriguing tidbit - that the character she plays in the future is actually a ghost. A horrified expression flashed across her face as she turned to Aronofsky, who confirmed that yes, that was something she probably should not have said. He smiled, though.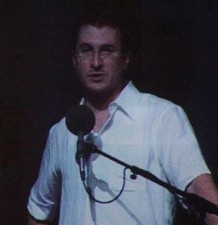 Hoping it won't take as long for his next film...

No need to worry about it, as Aronofsky actually also has The Fountain coming out as a graphic novel from Vertigo, adapted by Kent Williams. After his initial $75 million production with Brad Pitt collapsed, he figured that comics would be the only way something close to his vision would ever see the light of day. Clearly, he had worked too hard on the project to just let it die.

Inspired to deal with time travel in a new way after seeing The Matrix, Aronofsky did extensive research into Mayan mysticism. Not defeated by his star pulling out, he turned to Williams. The graphic novel, due in November, isn't taken from the film but directly interpreted from the original screenplay.

As Aronofsky put it, he was here to be "...exploiting the shit out of Comic-Con." Then he stopped. "Can I say shit? Too late. I did."

Questions turned to Weisz, ranging from technique to attempts to spur tabloid fodder. When asked how she prepared, the actress averred that she listened to music on her ipod to get into character. However, she grinned slyly when pressed as to what music was actually on her playlist. "It's a secret," she said.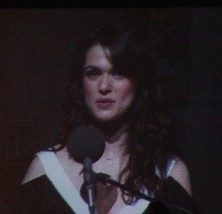 We all know it's Ben Stiller...

Aronofsky leaned into the microphone. "I bet it was Genesis," he joked.

The tabloid question got lobbed. Did Weisz prefer working with Hugh Jackman or Hugh Grant? She laughed and got politic. "I like them both in very different ways." Later she expanded that to point out that she had worked with them in very different projects as well. Where was the Brendan Fraser/Keanu Reeves comparison? Thankfully, the audience didn't have the energy for much frivolousness.

Accepting the audience's gratitude, Aronofsky made one last plea for everyone to spread the word about The Fountain. "Warner Brothers doesn't know what the hell to do with this movie," and from the looks of things, it almost seems understandable. The Fountain will be a challenge, a true science fiction film and not just a disposable pop fantasy.

If you don't mind thinking, and I hope you don't, then spread the word.