Comic-Con 2003 Day Two:
We'll Fix This When We Get Back
My day began and ended with Stan Lee, a day which lasted so long that it is, indeed, Saturday morning as I write this, and I'm about to go off to the Con again.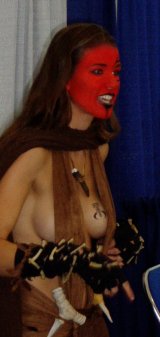 Actress/model Cheyenne Silver.
Did we interview her?
Does a bear go in the woods?

So this piece won't be pretty. We just wanted to get a few pictures up, and give you a little taste of what's to come over the next few weeks as a result of our time here.

Goodson attended a panel with Geoff Johns and Judd Winick, talking about their own little corner of the DCU. Winick swears that by issue #2 of Outsiders, you'll be hooked, though it's not your father's Outsiders. But he also claimed to be extremely tired and intended to dodge any questions he didn't want to answer by falling asleep. For example, "um, what about Metamorpho?"

Among other Winick news: he's working on three new issues of Barry Ween (woo-HOO!) and has proposed another Blood and Water mini-series, a prequel to the one that just finished.

For Hollywood gossip, Johns dropped that his partner on JSA, David S. Goyer, is leaving the book to go write the next Batman movie.

Proving once again that he wants the title of most prolific writer in comics today, Johns also mentioned that he has 36 issues of Teen Titans plotted. Let's have Bendis and Johns leg wrestle.

Though the two books won't cross over for a while, it will be at the instigation of classic Titans villain Brother Blood.

According to Goodson, Winick wanted to say much, much more (except about Metamorpho), but Johns' wife wouldn't let him.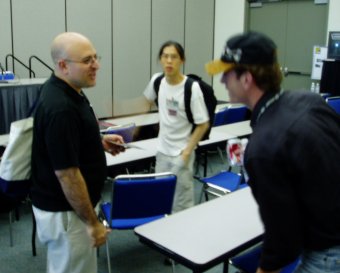 Even The DailyShow's Frank DeCaro likes comics.
DeCaro, unidentified reporter, and Kevin Conroy, the voice of Batman.
We also got a chance to see the world premiere of the latest Batman animated project: Mystery of the Batwoman. Scheduled for release in October from Warner Home Video, the film was fun, exciting, and once again frustrating as hell that the animation division keeps getting this right, and no one seems to be able to do it live.
But that's another rant, and our full review will come later. Producer Alan Burnett did caution us all, however, to take any announcements of a new Batman animated series with a grain of salt.
With a couple of hours free, we hovered around the autograph section, hoping to score interviews. Coming soon: Danny Strong (Jonathan from Buffy), Cheyenne Silver (and the rest of the crew from The Villikon Chronicles), and...eat my shorts, Chris Garcia...Rob Van Dam.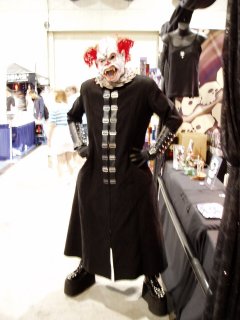 Can't sleep. Clowns will eat me.
Van Dam is here with a booth representing his very own comic book store. We had intended to do a sitdown with him on Sunday, but ironically, he was going to be leaving for our home turf of San Jose. More on him later, but it was a definite high point.
Oh, heck, the whole day was full of high points.
From there, the gang split. Goodson went to explore San Diego sushi. Mish'al and I headed to a panel on Comic Book: The Movie, which, of course, filmed here last year. Once again many of the top voice-over actors in the industry (minus a couple of faces/voices) gathered to just goof off for a couple of hours. And you know what? It's incredibly entertaining goofing off that probably violated several copyrights.
The last we heard from Mish'al, he was in Joe Quesada's hotel room. We covered the gamut of Marvel history, kind of odd when you realize they have no boot here. While Mish'al rubbed elbows with Joe Q (we're assuming), I was having dinner with Stan The Man.
Actually, it was more like dinner with Rob Worley from Comics2Film, but we were in the same room with Stan. And eventually, we talked to him. But now it's off to Day Three...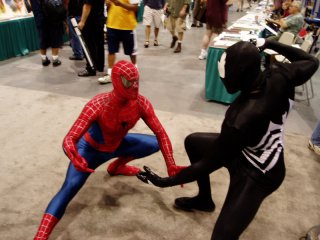 Old Marvel vs. New Marvel -- better than Capcom!