Comic-Con 2003 Day One:
Hey, There's A Cool City Around This Convention
There's a special something in the air, and it's not smog. Nope, it's the first official day of ComicCon, when exhibitors, professionals, and attendees are all really ready for each other.
We're really not sure what the theming is of these uniforms, but it seems to work.

Program-wise, it's also the lightest day, which is a very good thing. Not only has attendance not yet reached its capacity, but the exhibit hall is just so darned big that it's a shame to go upstairs for a presentation.

To better take it all in, we split up. Actually, Mish'al attended a variety of programs, and as of this writing, he's still at it. Michael headed over to the dealers' section, where he honed his bartering skills. Kids, trade is alive and well. If you've got the patience, the poker face, and perhaps vaguely spiky hair, there are good deals to be had.

Setting a morning goal of learning how to play Creepy Freaks at the WizKids booth, I headed there first before exploring the rest of the floor. Marketing Manager Jennifer Trisko showed me around their product line, including the sculpts for IndyClix.

Sorry, we were not allowed pictures. Some of it looks extremely cool, though the figures were not on bases. Guesses on unique figures: Nemesis The Warlock from 2000 A.D. and the Japanese version of Hellboy. Stop by and marvel, er, indy. Oh, heck, you know.

Anyway, a couple of WizKids envoys did demonstrate Creepy Freaks, and graciously allowed me to win. In a few weeks, closer to its currently scheduled September release, we'll have a feature.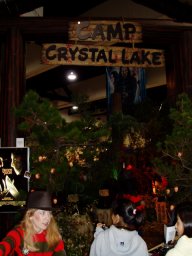 We could show you Star Wars and LOTR stuff, but really, Freddy vs. Jason is coming a lot sooner.

Then on to the big and loud booths. Several different companies are here touting the same licenses, with clusters of exhibits that on the surface look the same. Be ready for a lot of Lord of the Rings and Star Wars -- almost everywhere you look and stretching as far as the eye can see. But these booths cover videogames, on-line role-playing, websites, books and incidentally movies.

Behind New Line's Return of the King display, though, is a suitably dank recreation of Camp Crystal Lake, promoting Freddy vs. Jason. Women dressed as Freddy Krueger (strangely not disturbing) usher attendees in for photo opportunities. As far as we could tell, everybody makes it back out alive.

Another big movie promotion is Artisan Entertainment's push for The Punisher. Lacking anything of real substance, they went for size. Huge black curtains mask a small television set playing the one-minute teaser over and over. To get there, you pass a tombstone for Francis Castle. Hee hee. His name's Francis.

It's left to Pioneer Home Video to have the biggest television sets, and they do. Among Pioneer, ADV, and Tokyo Pop, there seems to be a contest as to who can be the loudest and have the most vivid video.

And speaking of Vivid Video, this year features a full line of adult film actress action figures. You may go into the Over 18 room, but please, don't be proud doing it.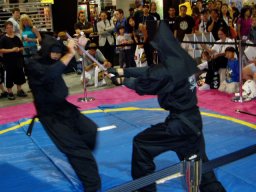 NINJAS!

But back to that loudest thing: Viz offered up ninjas demonstrating their moves. While we're still not sure what in particular they were promoting, DUDE, IT'S NINJAS! THAT'S SO COOL!

The most intriguing promotion for the day comes from Mindfire Entertainment's upcoming film adaptation House of the Dead. You can get a zombie "make-under," free to walk about the Con as free publicity. You can also train as a zombie hunter, as Mindfire has official undead walking around the exhibit hall. There's some sort of prize involved, and we really hope that it's an issue of Femme Fatale, just around the corner from the House of the Dead booth.

For the most part, the movie excitement here at the Con has shot its wad. Sorry to be blunt, but it's true. DC definitely has pushed its connection to The League of Extraordinary Gentlemen, and there's a lot of Hulk merchandise to be found. But buzz builds around the new, and for today, the new involves videogames.

The Activision booth has demos running of Spider-Man 2, which looks even smoother than the original Spider-Man The Movie game. Atari has Terminator 3 among others. Over by the Wizard display, Vivendi Universal runs the new Buffy The Vampire Slayer: Chaos Bleed and Battlestar Galactica. Set forty years before the original series, the game looks to satisfy fans more than the upcoming Sci Fi Channel mini-series, which star Edward James Olmos has publicly told fans not to watch.

We thank Vivendi Universal Marketing Coordinator Katya Shuldiner for showing us the Buffy game, and for remembering us from WonderCon. We're vain that way.
A mother and her daughters bid farewell to the convention for the day...

While seeking food offsite, we stumbled across perhaps the most important convention find: downtown San Diego actually has a comic book shop this year. Just last Monday, Comics -N- Stuff opened up at the foot of Horton Plaza, 1st and F Streets. It's big, incredibly well-stocked with comics, toys, and games, and well, it just felt good to walk into a normal shop for a few minutes. It may seem redundant to leave the Con to check it out, but it's a good store that could use the traffic. Otherwise idiots like us get to run rampant in it.

Tomorrow the big events start happening, so we took a little more time today to check out the actual San Diego downtown. It's really a great place to be, regardless of the Convention which makes it too easy to miss.

This place has a happening nightlife, which Mish'al will be exploring after he finishes up at the Lucasfilm/Atomfilm.com festival. Let us preview his report:

"It'sh great, it'sh shoooooo cooo --- oooh, I've got to sit down…"

See you tomorrow.