Falls Count Anywhere
01-17-06 (Smackdown) (NEWS and TNA Impact) (TNA PPV)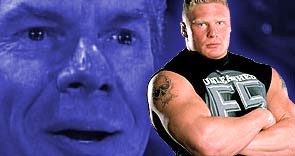 Go ahead, Vince. Laugh at him.

Other News
The Judge in the WWE vs. Brock Lesnar let out a note saying that he's going to issue a summary judgment for Brock on the 25th unless the WWE gives him a good reason.

They've got lots of points that they can argue, but really, they've given some good reasons and they haven't been given anything as a win. Once the judgment is made, Brock should be available to work wherever he wants to work. My guess is that TNA will make a play for him, though if they'll be able to offer him the money he'll want will have to be seen, especially since they're in deep to Sting. If he can figure a way to work both New Japan and TNA, then he'll be back up to WWE money.

There's a faction that says that the WWE will sign him after his New Japan deal ends. That's possible, but when the WWE loses a judgment that they had a legitimate shot at winning, they may not want him. He did well at the NJ Tokyo Dome Show where he kept the IWGP championship.

RAW
RAW was a show that I kinda enjoyed. They opened with Edge and Lita talking about last week. Angle came out and said that he'd like to unify the titles. Edge didn't like that idea and they brawled a little until Vince came out. He announced the Edge vs. Flair TLC match and that if Shawn Michaels loses to Kurt, he's fired. HE also said that it's a non-title match.

Kurt Angle and Shawn Michaels. These two had my match of the year as well as the second in the Wrestling Observer Newsletter voting. This wasn't as good as any of their previous matches, but it was good for RAW. Angle worked hard, as always, and Shawn is hurt enough that he didn't quite rise up to his level.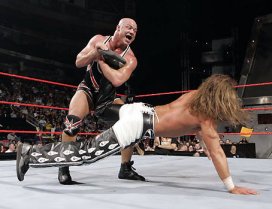 Somebody's having a good time...

It wasn't built or paced as well as their other matches, and it had a weird ending. Daivari brought out the chair when Angle had Shawn in the Anklelock. This led Kurt to giving up on the Anklelock and Daivari hit him with the chair, allowing Shawn to get the win with a roll-up. Shawn's obviously hurting and probably could use a few weeks, if not months, off. Still, this was close to a four star match. Angle gave Daivari the Angleslam from the ring to the outside. Wow.

They had John Cena take the Masterlock Challenge. Cena got a great big pop coming out. I mean it was monster. He then let Masters put the Masterlock on and it seemed like he was about to power out of the Full Nelson when Edge came in and taunted Cena with the belt and then hit him with the title belt. This was OK, but it would have been better if he had broken it and then Edge attacked.

They had Vince talking to Ric Flair in the back and Candice came around and looked hot for Vince. Meh.

Trish Stratus, Mickie James, and Ashley had a minor train wreck with Torrie, Candice and Victoria. There was the spot where Trish does a headlock take-over combined with a head scissors that they blew. That was OK though as they went home after Ashley was bumped into Mickie James and she was not happy with that fact. Ashley then took the Widow's Peak for the loss. It wasn't good, but it was short.

RVD is coming back at the Rumble. That's the worst place to bring him back since they could probably pop a rating with it on RAW or build a real PPV match around it, but what are you gonna do? He's gonna be in the Rumble and that'll set up his programme for the year.

Carlito did a Cabana, saying that he was the one who sent RVD to the Disabled List. He then says he's gonna win the Rumble, and Kane comes out and throws him to the outside over the top.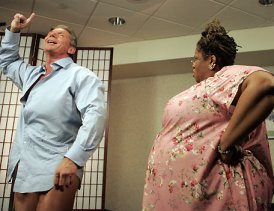 Now with 30% less dignity...

They have Vince strip for Candice but it's really Mama Benjamin. She's warm for his form, but she just wants to get Shelton a match. Vince says he'll get a suitable opponent for Shelton. It ends up being the Big Show. Shelton's Mama is actually pretty good in her role, as weakening Shelton is a tough job, but she does her best in the role. Shelton avoids a Chokeslam, but he goes out and is attacked by HHH, which leads to Big Show getting counted out. Nice to have a Shelton winning streak, but he's really a controlled face instead of a heel which would actually get him over as a character.

Edge and Flair met in the TLC match. This was really, really good. Flair did his dirty tactics work, which is usually awesome. Edge did his usual Ladder Match tricks. He gave Flair a Splash through a table off a ladder. Sweet! Flair bled like a mad man in this one. Flair whalloped Edge with a chairshot. He absolutely killed hit with that shot. Nice bit of Flair toppling the ladder that Edge is on and he goes through a table. Flair then climbs, but Lita stops him. Edge eventually gets up on a ladder with Flair and Edge ends up grabbing the belt for the big win. Really solid match. After the match, Edge gives Flair a spear, then goes for the Conchairto, but John Cena runs in and makes the save. Good stuff.

Not a bad show and a good way to end a week. They're going with longer matches this week, which is a nice thing in my eyes. I thought that Orton vs. Benoit was better than Edge vs. Flair, but it was close, and a long way from Daniels vs. Samoa Joe.

That's all for this time. More next Tuesday!


Talk about today's column in the forums!