Docs for the Doctor!
Already looking to cosplay-up your Peter Capaldi Doctor Who? We've got the latest notes on cosplaying the latest Doctor and more!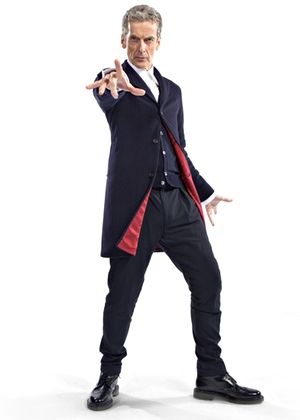 Yeah, that coat is from Crombie in Scottland. Striking and unique, and currently sold out. So much activity on the Crombie web site that it was brought down shortly after the picture was released. You can catch Crombie coats in action here. We're betting this is the Black Retro Coat Classic Fit which is still for sale on their web site.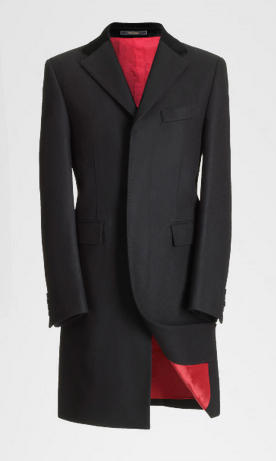 There are several similar styles, you can browse the site to see them all, but at $1300 US dollars it's a bit daunting to consider buying directly.
Note: As we were writing this the coat went on sale! Not sure how long that will last, but at $900 it's apparently a steal!
Little can be told about the tieless white shirt other than you're going to want to look for a fairly long collar, likely with stays in it to keep that sharp point, and enough sleeve length to show beyond the coat cuff.
Similarly there's little to say about the cardigan waistcoat. A lot of detail here is hidden, and you can probably get by with any number of button-up sweater vests until we have some shots of the Doctor in enough danger that he has to remove his coat to solve the issue at hand.
No identification on the pants, rather trousers. Aside from being fairly ill-fitting around the crotch, there isn't much to go on here. We actually expect that these are work pants, possibly even Benchmark "Trowsers that Work" from the UK. Note that we're only guessing here, but they're considerably cheaper than the Crombie coat!
And now the footwear, and the most interesting news.
Much has been said about the Doc Martens. But here are the details we've painstakingly researched.

Right off the bat, those are not Dr Martens! Regardless of all the talk about the "skinhead Doctor" and Stephen Moffat noting how this Doctor would be stomping out the monsters with this retro choice, they're not actually from DM!
For the purposes of the photograph, apparently a boot from designer Kurt Geiger was used! We have this straight a source in the UK Dr Martens itself, and they're rather amused. There was a strict "no comment" on what model DM will actually show up when we start to get pictures from filming the episode, but we'll update you on that asap.
In the meantime, we have two reasonable substitues. Well, two substitues, one reasonable.
The closest Dr Martens match to the Geiger shoes is their Affleck Brogue Boot. Here's a video of these in action, and you'll see they're a pretty close match.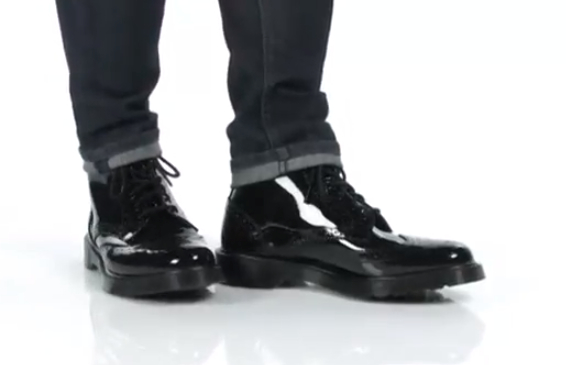 And a nicer still shot so you can see how closely they match the Kurt Geiger boots.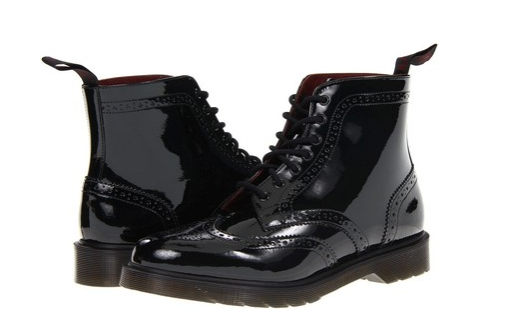 There are only two problems with the DM Affleck boot. First, at $140 they're a little pricey (OK, maybe we're just a little cheaper than you are when it comes to costuming). But that doesn't matter really because they're sold out everywhere we looked. World-wide. Gone.
It's a reasonable bet that these may actually be the shoes Peter Capaldi wears on camera, and frankly our folks at DM were unable to determine why stock was not available at this time.
In the meantime, you can find a reasonalbe substitue in a Dr. Martens Work Berkshire 5-Eye Brogue style. These are available at many fine stores, but we'll give you a link below to help you out. Compare the photo above and below and decide for yourself if they meet your own requirements for accuracy.
The good news for all you pain for the art types is that these are work shoes, made for comfort. There's a non-slip sole, air cushioned, so they're probably the most comfortable cosplay gear next to your Ugs. Very flexible.
About that "brogue" word. That refers to the dotted pattern throughout the striping on the shoe and the wingtips. And of course 5-Eye refers to the pairs of eyelets for laces.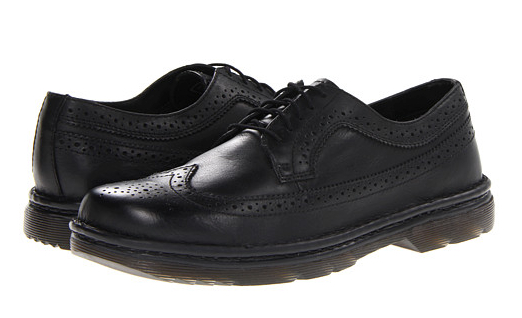 Now to the details.
First, you want black, not brown. Brown might look better on you, but there's the distinctive yellow stitching on the brown version that is notably not in place in the Peter Capaldi photo.
Second, if you really want to look like Peter in the BBC photo, go to a professional shoe shine technician to give it a real buff. They likely won't glow like that right out of the box.
And you can get them now at Zappo's.
And there you have it. Recognizable cosplay gear and all you have to do is open your wallet, and perhaps a web browser.
Let us know how your cosplay of the new Doctor goes by writing to us on Facebook!