"That Which Does Not Kill You" At The Cotton Candy Machine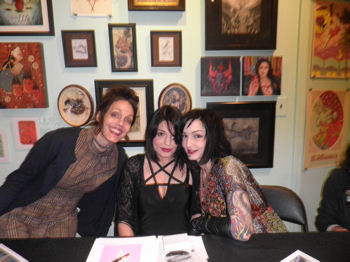 As soon as one enters this gallery, run by the wonderful Tara McPherson and her partner in both business and in life, Sean Leonard, the first thing that draws the eye is the table display full of books by awesome contemporary artists, dead center inside the corner storefront space in Brooklyn.
The gallery was founded in 2011, launched via the laurels of the now annual Tiny Trifecta event, a street fair which features 100 artists' work at $100 apiece.
Now in its successful fourth year, the gallery hosts monthly exhibits which have showcased pieces by the such talents as Wizard Skull, David M. Cook, Alex Pardee, Natalia Fabia and Bryan Ewing, just to name a few.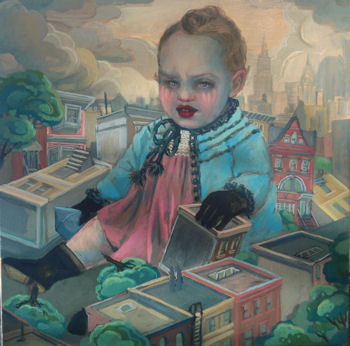 One of the most current exhibits, "That Which Does Not Kill You," highlighting pieces by Jessicka Addams, Lindsey Way and Lori Nelson, had its opening on May 9, and to say that the event was a smash hit would be an understatement.
As a wine and beer vendor cheerfully offered up his wares atop a small cooler in exchange for tips and a quip or two, the gallery owners rushed about madly, attempting to welcome guests, assist buyers (lined up almost to the front door,) and organize a signing table for the artists.
The space thrummed with well-wishers photographing both the exhibit pieces as well as the store displays, requesting selfies and exchanging pleasantries with the flushed and happy artists, and purchasing everything from stickers to canvases to coffee table books.
This hidden treasure in the heart of arty Williamsburg is worth a visit, if not merely for a cheery exchange with the founding family, but also for the opportunity to display an original and (most importantly, affordable) piece of art history proudly in your home.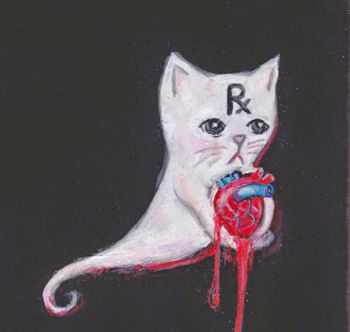 The featured artists in this exhibit are some of the most iconic women of our time: multi-talented, influential and intriguing. The pieces leaned toward the awesomely grotesque: giant babies playing with skyscrapers like building blocks ("Hello, Brooklyn" by Lori Nelson,) RX cats donning bleeding hearts ("Prescription Ghost" by Jessicka Addams) and pixelated horseback riders ("The Door" by Lindsey Way.)
Each piece was featured in both print and postcard format, hand-signed by the artists.
For those of us who are familiar with the ladies' work, their showing was instantly recognizable on their individual walls without any need for inscription.
Thanks to this showing, a friend of mine has actually purchased one of the originals ("The Door.")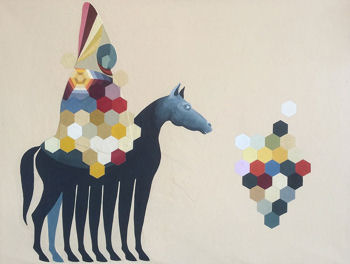 Although my budget didn't allow for such delicacies this time around, I will no doubt return to the gallery next paycheck in the hopes of scoring at least a tee shirt by each of the ladies. Trust me, New York City, you don't want to miss this one.
The exhibit runs through June 8, 2014. Click here for more information.

To learn more about the featured artists, check out their individual websites here: