Clothes Make The Commanding Presence
(originally published in the Winter 2001 issue of Once Upon A Dime)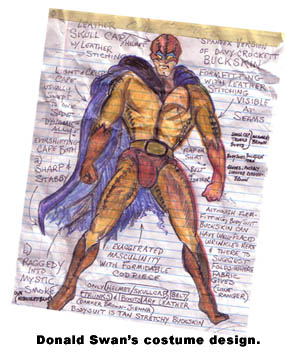 When I first heard there would be a Commander Courage feature film, I immediately tried to think of how they would do the costumes for the Commander and Liberty Lad. Knowing how Hollywood had messed with other characters' looks in the past, I was worried they might go with a polished leather (or worse, spandex) rather than the true-to-the-comics rough finished buckskin. I even started drawing costume design sketches to help me anticipate problems the real Hollywood costume designers might face.
But none of my efforts could have prepared me for the biggest problem Hollywood would introduce: They weren't using Liberty Lad at all, and for the Commander, my sources told me they were leaning toward the slick "black ops" look of the later character Codename Courage.
Suddenly my costume designs took on a new urgency. I had to get these sketches in front of the right people. Perhaps if they saw how my adaptation worked for a modern Hollywood blockbuster while still preserving the authenticity of the early comics they might re-think this disaster in the making. Then, odd twist of all odd twists, I got a call from Timely Studios. They wanted me to serve as a consultant on the film. They had read my bio of Jack Whitney and, clearly impressed, thought I might lend some legitimacy to their efforts.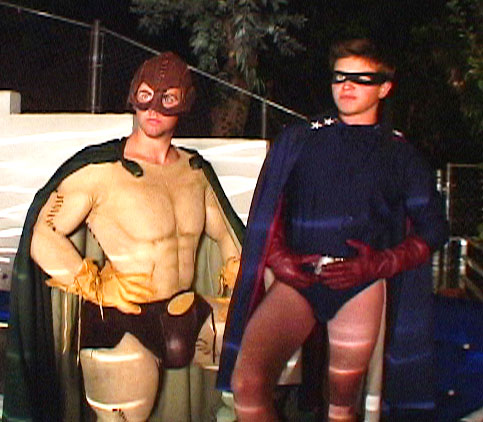 I took their job and headed to Hollywood. But of course I had my own agenda. One of the first things I did in Los Angeles was track down Greg Nicotero and commission two costumes from my designs. One for the Commander and one for Liberty Lad.
My next step was to find buff, handsome actors to don the garb. I wanted to shoot some photos of them and show the photos to the studio so nothing would be left to their (inadequate?) imaginations. My problem was I had spent too much money on the costumes. Derek Sprang was on my back for going into debt. He was probably worried that I could lose the comic shop if I kept being reckless with the little money I had. But I was still so naïve about Hollywood I didn't realize I could get plenty of actors to work for free.
So these are those pictures. Let's just say that so far, my efforts to convince anyone at Timely Studios have had less than the effect I wanted. But I think fans will agree: this is the direction they should take.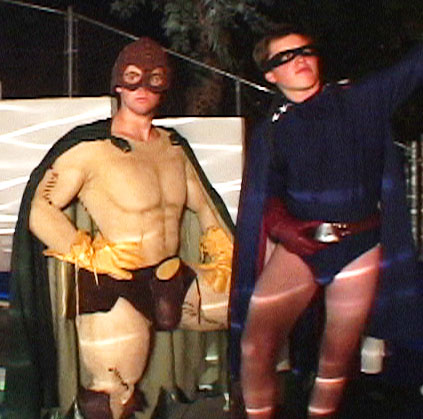 -- Donald Swan