Jack Cole: A Life in Four Colors
(originally published in the Winter 1991 issue of Once Upon A Dime)
A comics giant with an amazing ability, Jack Cole was one of those virtuosos who could do vastly different styles. He might have three different fanbases. One loves all his voluptuous incredibly sexy women in Playboy, done in water colors and oils. He did a newspaper strip that was minimalist like Peanuts called "Betsy and Me", a droll domestic situation comedy.
And of course, he did Plastic Man, which marked the dawn of a completely different style in comics. He found incredible inventive ways to use Plastic Man's body.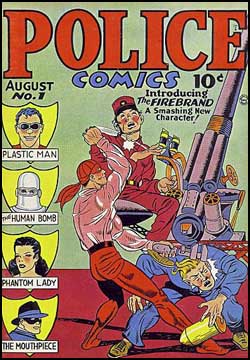 Yet Cole in his bio would say "I worked for 11 years in comic books" never even mentioning his most famous creation: Plastic Man. It's astonishing.
In those early days comic books were just a stepping stone to get a real job. The holy grail was to get your own newspaper strip. Other than that you could hope to work in advertising or be a commercial artist but you didn't want to be known as a comic book artist. You were thought of as one step above pornographer. Ironically, it was none other than Hugh Hefner who gave him work at a time when he was trying to get out of comic books.
But let's take a look at those eleven years Cole himself tended to gloss over.
In the late 1930's Detective Picture Stories became Keen Detective Funnies as part of the new Centaur Publications. Among the illustrated detective heroes was TNT Todd of the FBI and Little Dynamite drawn by Jack Cole. Centaur at the time employed nearly every great name in Golden Age comics; Seigel and Schuster, Bob Kane, Will Eisner, Bill Everett, and Carl Burgos to name just a few.
In 1939 Silver Streak Comics hired Cole as editor. There he wrote and drew the high speed adventures of their titular character in addition to drawing Daredevil (no relation to Matt Murdock).
That same year MLJ's Pep Comics offered the world Archie Andrews and friends positioned oddly alongside the first super patriot The Sheild. But Pep had another costumed avenger, Jack Cole's The Comet. Jack worked on only the first eight issues.
In 1941 the Comet was killed by his gangster foe Big Boy Malone. This was perhaps the first case of a superhero being killed off. The Comet was replaced by his brother, the ominous Hangman, an even stranger neighbor for Betty and Veronica.
1941 was a big year in the career of Jack Cole. In January The Ray was the biggest hero at Quality Comics' Smash Comics until in issue #18 Jack Cole's created a masked crime fighter named Midnight. Wearing a fedora and a domino mask, Midnight had a slight similarity to Eisner's Spirit in addition to sharing a debt to the visual language of film. Cole's bold cinematic style employed unconventional "camera" angles to frame the action in more compelling ways.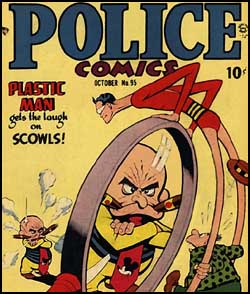 By the summer of that same year (1941) Cole was working on his most famous character, Plastic Man. A highly unusual hero character, "Eel" O'Brien was a crook before gaining his super powers and changing his views on crime. Plas joined The Firebrand, The Human Bomb, The Mouthpiece and the Phantom Lady in Police Comics #1 from Quality Comics. Despite being given only six pages in which to convey both the origin tale and the first caper, Plas grew popular enough to appear on covers starting with issue #5 and by issue #9 he had top billing.
The surreal nature of an elastic man meant Cole's art could be more inventive than comics readers had seen before. There was a newness, a freshness and modern quality to Plastic Man that few characters from the era could match.
Cole had a very whimsical style. A comedic, limber athletic style that has been assimilated into other artists' drawing style so gradually that we forget how unique it was. The comic aspects of Cole and his character also resonated with readers. Plas was an extension (forgive the pun) of Cole's humor. He would bend the rules of comics as easily as Plas would bend his limbs.
Just as Cole's creation Midnight had competed with Eisner's Spirit, now the Spirit would haunt Cole's new hero. In Police Comics #11 Plastic Man had to compete for space with Eisner's fedoraed fighter of felons. This must have been an odd turn for Cole since he had once served as Eisner's assistant.
1941 also saw the huge success of Blackhawk in Military Comics. Cole was brought in to write and illustrate three issues of Death Patrol for the publisher. The tale of a handful of felons turned Royal Airforce Pilots concluded each month with one of them dying.
In 1947 when the tide in comics had turned toward Crime Stories, Jack Cole was tapped by Magazine Village to lead the design of their True Crime Comics. Cole enlisted Alex Kotzky (who would later create Apartment 3G) and together they produced dark violent tales including Cole's sexy noir classic "Murder, Morphine and Me!"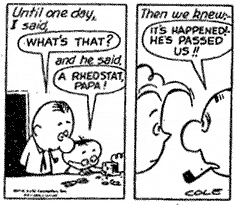 In 1958 Cole had grasped the holy grail of comics artists; his own newspaper strip "Betsy & Me". Yet despite that, this year would be his last. Jack Cole wrote a letter to Hugh Hefner and one to his wife, then put a gun in his mouth, commiting suicide.
No one could understand why.
Hefner has intimated to me that the couple was childless and there were problems in that area. But Cole wasn't a drinker or a wild guy. He was a mild mannered gentle person. Everybody was stunned.
Jack Cole and his work live on with fans like me (and you?).

-- Donald Swan