Enter The Write Environment

Jeffrey Berman in interview mode...
Today marks the launch of an exciting new interview show from one of our own -- or is it fair to say that about him? Jeffrey Berman has been kind enough each year to take pictures from conventions (dynamite eye) and submit them to Fanboy Planet, as well as cover the odd L.A. happening for us. All along he's also been making a living as a screenwriter, and now he's branching out with what should make some great holiday gifts for those who would be writers, too.
Berman hosts The Write Environment, a (so far) six-part series in which he sits down with some of Hollywood's hottest, most prolific and most deserving writers. Having mingled among them for years, Berman gets them at a comfort level few interviewers could achieve. Such luminaries as Joss Whedon, Tim Kring and Sam Simon relax with Berman and have a simple conversation -- a simple conversation that gives us an inside look at some of our favorite entertainments.
Below I've got Jeffrey's press release, and a YouTube preview video. Definitely check this series out, and head over to the website, www.thewriteenvironment.com. And Jeffrey? Remember the little people.
From Jeffrey Berman:
RDRR Productions will release the first two episodes of THE WRITE ENVIRONMENT exclusively on DVD November 18. These episodes feature Joss Whedon, the creator and head writer of the popular television series Buffy the Vampire Slayer and Angel, as well as the creator and head writer of Everybody Loves Raymond, Phil Rosenthal. The remaining four episodes will be released in the following weeks. All six DVDs in the series are currently available for pre-order at Amazon and www.thewriteenvironment.com. Each DVD is $10.99 with a special buy five, get one free deal for those that want to purchase the entire series.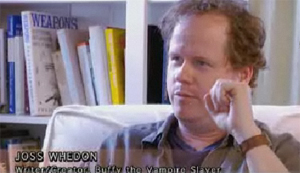 Joss Whedon opens up in The Write Environment...

THE WRITE ENVIRONMENT features 50-60 minute, in-depth, one-on-one interviews with some of the most lauded and prolific writers in the television industry today, including Damon Lindelof (Lost), Tim Kring (Heroes), Phil Rosenthal (Everybody Loves Raymond), Doug Ellin (Entourage), Sam Simon (The Simpsons), and Joss Whedon (Buffy the Vampire Slayer).

Created and hosted by screenwriter and journalist Jeffrey Berman, each episode of THE WRITE ENVIRONMENT takes viewers backstage into the here-to unseen world of the writer's room for intimate interviews that offer a rare look at these diverse writers and what inspires them. From that first idea to the finished script, the writers share their views and stories, examining their successes, failures, and everything in between. As entertaining as it is informative, this series makes an excellent holiday gift for fans, fledgling writers, and seasoned pros alike as Hollywood's most successful writers reminisce about their careers and discuss their craft.

"I have learned so much about the craft of writing while conducting these interviews," says Berman about the series. "Each episode is like a master class with these A-List writers and I'm looking forward to sharing them with both the fans of their seminal shows, as well as students of screenwriting."