Zack Snyder's Kryptonian Three
Ordinarily I wouldn't run one of these unofficial pics from Superman: Man of Steel's shooting, but this one actually confirms something that people have been debating all over the internet. Not only does it feature the two Kryptonian villains -- Michael Shannon as Zod in what I hope is a partial motion capture suit and Antje Traue as Faora, the male-hating strongwoman -- but it also gives us a full shot of Henry Cavill (or a stuntman) in the suit. And you may note -- NO RED TRUNKS!
To no one's real surprise, I guess, Zack Snyder was definitely in on in the launch and redesign of Superman in September. The Man of Steel will match the guy running around in the pages of Superman, assuming Dan DiDio's mad scheme works (and it looks like it will) and the revamp will still be strong in the Summer of 2013.
Anybody else want to tear into this? Let us know via email or on our Facebook page!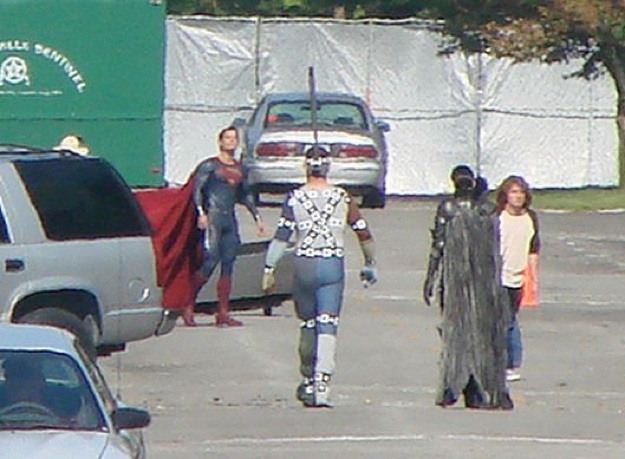 Superman -- NO TRUNKS! General Zod - uhm... and Faora?.

\