The Human Torch Returns!
Fantastic Four #600 Confirmed!
UPDATE: Marvel confirms this morning that Fantastic Four #600 will be a quadruple-sized issue (no pricing released yet) releasing in November. Here's the info as they gave it:
FANTASTIC FOUR #600
Written by JONATHAN HICKMAN
Penciled by STEVE EPTING, CARMINE DI GIANDOMENICO,LEINIL YU & FAREL DALRYMPLE
Cover by GABRIELE DELL'OTTO
Variant Covers by JOE QUESADA, JOHN ROMITA JR. & ART ADAMS
NOVEMBER 2011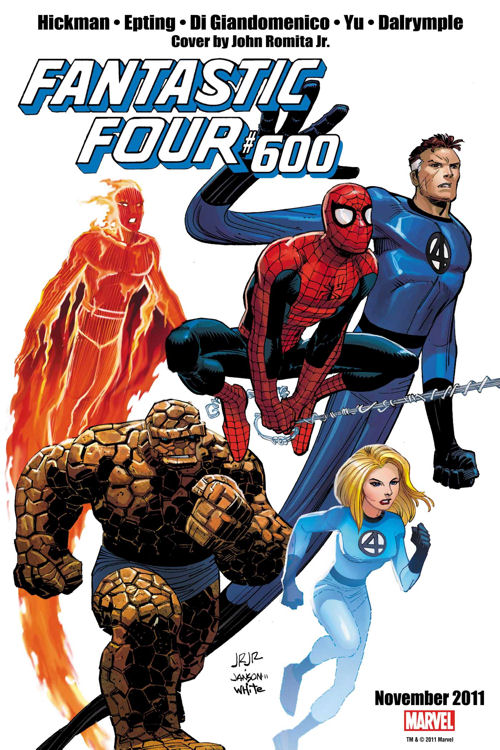 Marvel released the following teaser image this morning, following an image released yesterday, to celebrate the return of... well, they haven't officially said what's returning in November of 2011. But we're not dummies. We've been to this superpowered marketing rodeo before.
Monday was the 50th anniversary of Fantastic Four #1, the book that officially began the Marvel Universe as we know it. And if Jonathan Hickman had not ended that book and started another with FF (a.k.a. Future Foundation, brilliant book you should be reading), November would mark Fantastic Four #600.<
And so it will anyway, I think. So do a lot of other pundits on the internet. Likely we'll get two books -- a continuation of FF and a revival of Fantastic Four, rumored to both be written by Jonathan Hickman. (Seriously, seriously, SERIOUSLY, he's got the goods.)
The image below includes Johnny Storm, and if USA today suckered any of you into thinking he was really dead, for shame. But Hickman played fair in this; we only saw a torn apart uniform, NOT a body.
Welcome back, Johnny.