Comic-Con Day 1
Last year, Kevin Smith stalked us everywhere we went. This year, Peter David has unwittingly taken his place. Upon first stumbling into the exhibition hall and checking out the always cool Bongo Comics booth, we caught David offering to write The Simpsons for a dollar. Bill Jemas immediately swooped in and announced he would be writing The Simpsonilles. Whoever has the lower-selling book has to build a booth for Marvel next year.
Like a lot of attendees today, Fanboy Planet almost didn't make it to the convention. A terrible truck accident on I-5 delayed both several guests and conventioneers. In our case, we had trouble determining the difference between AM and PM on our alarm clock.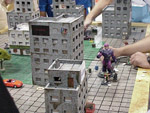 Today we continued walking around in goggle-eyed wonder, realizing that even with our various levels of fannish behavior, most attendees make us look like amateurs. Still, we got to venture a little outside the regular realm of comics. Wizkids began holding regular games today for their Hero Clix system, as well as Mage Knights, and introduced the DC Universe Hypertime set, which set DC editor Dan Raspler into a frenzy of excitement.
From there we got a brief chastisement by Jennifer of New Line Home Video. Yes, faithful readers of Fanboy Planet, the DVD of Lord of the Rings: The Fellowship of the Rings comes out on Tuesday, August 6. And no, mentioning that still won't get us a review copy.
Having established a great rapport with the guys over at CrossGen Comics last year (and their booth certainly has filled the gap left by Marvel), we stopped by to say hello. Director of Corporate Communications Ian M. Feller introduced us to CrossGen CEO Mark Alessi. For a guy who didn't have much time to talk, he still gave us a lot of information.
Always controversial at conventions, Alessi promised to shake things up in a big way this weekend with two huge presentations. On Friday, CrossGen will be revealing some big media deals, followed by some news on Saturday which will be shaking up the publishing status quo. Persuasive as all heck, Alessi convinced us to be there. We'll talk to him a little more (and on the record) on Saturday.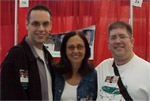 People who went on the record with us today were James Leary from Buffy The Vampire Slayer and, in the high point of the convention so far, Erin Grey. By sheer chance we ran into Tom Kenney (Mr. Show, Spongebob Squarepants), here to shoot Mark Hamill's new mockumentary, currently titled Comic Book: The Movie. We'll be trying to sneak into as many shots as possible. Coincidentally, Brian Posehn walked by as we talked to Kenney, so we grabbed him for a sitdown, too.
Among the presentations today was the JLA/JSA panel, in which editor Dan Raspler let slip that Chris Claremont will be writing a JLA mini-series. Though that sent a buzz of excitement through the room, it didn't compare to the moment that Mark Waid showed up and asked the question that had plagued him most in years past: "Will you put Firestorm in the JLA?" At least Joe Kelley got to answer yes before people started asking Waid questions.
Line of the day, however, went to JLA penciller Doug Mahnke. When an audience member asked the artists if their wives or girlfriends asked them to draw women with smaller breasts, Mahnke paused, slowly pulled the microphone to himself, and said "There is no reason to discriminate against large-breasted women." Good thing, too, because JSA writer Geoff Johns hinted at big plans for Power Girl.
Raspler kept a tight rein over any really big revelations, other than a confirmation that the hunt for Aquaman would indeed end with the JLA actually finding him. Kurt Busiek let very little slip about the JLA/Avengers crossover, but marveled at how much detail George Perez keeps throwing into the book. "There's a luau on the satellite, and George drew seven pigs on the spit."
Now it's late, and we have Hero Clix to play…