I suggest all this because since Jericho won the title last Sunday, the WWF has not done anything to entertain me. Raw was lame and Smackdown was the same old thing wrapped in new stupidity. Matt Hardy just turned heel, so why does he lose his first match non-Hardy match to Bradshaw? Should he beat a few people so we believe he's a credible heel?
Was anyone surprised when Kane destroyed Lance Storm? For that matter, was anyone surprised when the "surprise" opponent was Kane? Why can we hear Stone Cold talking to McMahon on his cell phone? Why can't we hear Stone Cold when he's talking to Flair on the same damn cell phone?
Austin vs. Booker in the grocery store was different, but does anyone believe that Booker T won win in a match against Stone Cold? The guy has done nothing but job since joining the WWF.
Despite Flair, despite giving the title to Jericho, despite McMahon saying that changes are coming, the WWF right now still seems like the same old gal we've had for years.
The Rock vs. Stone Cold Steve Austin - WrestleMania X-Seven

Steiner to XWF
The XWF has signed Rick Steiner to work their first three house shows after the first of the year. I reported last week that Curt Hennig and Greg Valentine mentioned on a radio show that "Steiner" was going to join XWF. How foolish of us all to believe that they meant the better Steiner, Scott. Also, the XWF have had informal talks with Sting, who is still under contract with AOL Time Warner until the end of this year. It's possible that Sting could sign, especially given their favorable schedule which would not require him to be on the road every week. They are also still working on signing Hulk Hogan to a long term deal but negotiations are slow. As is Hulk Hogan.
Stone Cold Larry Zbyszko
Zbyszko vs. McMahon
Chris Jericho has recently started calling himself "The Living Legend", and Larry Zbyszko is furious about it. Zbyszko, who wrestled as "The Living Legend" for practically his entire career is blaming Vince McMahon for the violation.
"He's (Jericho) just doing what he's told. This goes back 20 years to something personal between me and the McMahon's. I had no intention of ever working for them again, but I don't appreciate the fact that Vince McMahon is taking someone's image and using it in this way. It would be like me billing myself as Stone Cold Larry Zbyszko or Larry The Rock or Triple Z" (which would be funny since his name is Larry.)
"This is a personal thing with me and Vince going back 20 years. It's personal. Vince knows what happened and I'll never forgive him for what happened." Zbyszko won't say what caused the bad blood between he and the McMahon's, he does have a suggestion on how to settle it. "If he wants to settle it like a man, I'm calling him out. I want him to step up and settle something that should have been settled years ago. Maybe then he'll have some respect for wrestlers...something he should have had years ago."
I happen to have it on good authority that the whole issue between McMahon and Zbyszko stems from an incident 20 years ago involving 3 ounces of pot and the last Twinkie.
Bob Holly: Living Dangerously
Against doctor's orders, Bob "Hardcore" Holly returned to action at RAW tapings on Monday. Because of his arm, he is still months away from receiving medical clearance. However as part of the presently on-going Tough Enough 2 competition, he decided to get in the ring while his students were watching from ringside. Hardcore teamed with Crash against two developmental talents from UPW, which allowed him to limit his physicality. It's all fun and games until someone's arm falls off. Then it's just fun.
HHH's Return
The WWF is advertising the "return of HHH" for the 1/13/02 house show in Houston, TX. They have been running ads mentioning his return on local radio stations. HHH is also being advertised for the 1/12/02 house show in Lubbock. Are they just teasing us again or is The Game ready to continue?
Bischoff's New Promotion
The current issue of Sports Business Journal reports that Eric Bischoff has started a new mixed martial arts group called Battle Entertainment. The group will be represented by CAA, who will be promoting ultimate fighting both in the US and internationally. Someone needs to tell FanboyPlanet writer and amateur fighter Matt Sedore about this.
Rikishi Attacks Wrestler
Rikishi attacked departing WWF developmental wrestler Russ McCollough Wednesday night during a Heartland Wrestling Association six-man match at the Montgomery County Fairgrounds in Ohio. According to an HWA source, McCollough accidentally "potatoed" Rikishi with a punch. Rikishi got upset and eventually hit McCollough with several stiff chairshots at ringside.
The referee stopped the match as McCollough ran backstage. Once Rikishi returned to the locker room, wrestlers struggled to keep him away from McCollough. Rikishi is said to have hollered that McCollough deserved to be cut from the developmental roster. While wrestlers aren't making excuses for Rikishi's behavior, several report that McCollough has a reputation for sloppy ring work.
Others point out that Rikishi has been complaining to friends about having to work WWF TV tapings while also having to appear at HWA events. Sources report that Rikishi was under the impression that he would only be working HWA events until January, when he was originally scheduled to return to the WWF along with the Island Boys.
Shawn Michaels Reminder and Possible Return
Don't forget that Shawn Michaels is the in studio guest on WWF Excess tomorrow night. It's the first real reason to tune in to the show since it started. No, Trish's breasts aren't real. Michaels hosted a Smackdown party last night and told the crowd that he was meeting with Vince McMahon today to discuss his future in the WWF. Michaels was a key figure in the ratings turn around for the WWF back when WCW was kicking their asses. Hopefully McMahon and Michaels can reach an agreement that gets Shawn back on WWF television soon.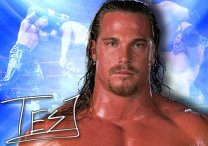 He's the "T" in T&A.
Book It
Each week in Book It we help the struggling WWF creative team with a few ideas on how to get talent that has been stuck in a rut over with the WWF fans.
Andrew "Test" Martin was a wrestling fan and bodyguard for such bands as Motley Crue. When he wanted to get in to the wrestling biz, he turned to Bret Hart who in turn trained him. Vince McMahon took notice of the big guy and hired him. When Motley Crue played a live gig on Raw, Test was there to tackle a fan rushing the stage. The next week, Test was there again to attack HHH (baby face at the time) and Test joined Shane McMahon and The Rock as part of Vince McMahon's evil "Corporation."
Test came close to breaking in to the main event when he was put in a storyline with Stephanie McMahon. Test and Steph fell in love, got engaged and were set to be married until HHH (now a heel), spoiled the nuptials when he showed video tape footage of him "drugging" Stephanie McMahon and taking her to Vegas to be married at a drive thru church. But rather than build a Test vs. HHH feud, HHH beat Test easily and Test sunk back down in to his mid card status where he has remained. Since then he's been an Intercontinental Champ, WWF Tag Champ, WCW Tag Champ, WWF European Champ, WWF Hardcore Champ (2 times), but he's never been as popular as he was the night HHH stole his bride.
Most recently Test was a member of the Alliance and when he lost his Intercontinental belt to Edge at Survivor Series, Test entered himself in the Immunity Battle Royal and won. According to the stipulation of that match Test can not be fired from the WWF regardless of his actions. The writers have played that gimmick up a little as we've recently seen Test hitting a ref and hitting on Lita, but Test remains as unpopular as ever. So, how do we get Test over with the fans?
For starters, the writers really need to take the "immunity" gimmick to the extreme. If you could do anything you wanted at work and not be fired for it, what would you do?
Assuming I was a bad guy, in my office I'd start by stealing some computers. Test needs to start stealing things. In my office, I'd grab the ass and tits of every hot chick getting a pay check. If the WWF wants its "Attitude" back, Test needs to start doing that. In my office, I don't think I'd want to sit at my cubicle. I think I'd want to sit in my bosses office. How pissed off would Ric Flair be if Test started using Flair's office as his personal locker room.
In fact, if I couldn't be fired, why should I work at all? Test needs to stop wrestling or at least stop caring about winning. Test can bring a bat to his matches. Test doesn't have to wrestle if he doesn't want to. Test can steal J.R.'s head set and do commentary. Test can spit in Ric Flair's face. Test can crap on the hood of Stone Cold's truck. Test has immunity and he needs to take that to the extreme.
Rather than watching what Vince McMahon is doing in his office at the start of every commercial break, we should see what havoc Test is getting in to. Hey, it's better than watching a Hardy Boys break up skit.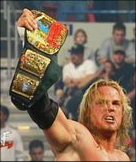 It's better than being the "A" in T&A.

Spitting in Ric Flair's face and defecating on Stone Cold's truck is going to win Test a powerful ally in Vince McMahon. Forget about Booker T; Test is Vince's new right hand man. By doing favors for Vince, Test earns title shots and quickly becomes the Intercontinental champ again.But rather than defend the title every week, Test goes to the WWF rule book which says a champion only has to defend the title every 30 days. Test continues to test the boundaries of his immunity by attacking wrestlers during their matches and backstage. Ric Flair hates Test for his arrogance and brashness, so he begins sending wrestlers out to beat the snot out of Test. Not in the ring, but in the parking lot, in the grocery store, at the gas station. Test is now a marked man in the eyes of Ric Flair. Test is also the pawn on Vince McMahon, so he becomes a key figure in the McMahon/Flair feud. He's also getting a lot of television time. This should carry us to mid January when HHH returns.

When HHH comes back, no one knows if he will be a heel or a baby face. I say start him out as a baby face since the fans are going to go nuts when he returns anyway. Stephanie will remain at his side, but she'll keep quiet. During a Raw, Test catches Stephaine alone back stage and they exchange some hostile words. She calls him an asshole, he calls her a bitch. She's says she's glad she didn't marry him, he says she doesn't know what she's missing. Test grabs Steph and forces her to kiss him. HHH arrives just in time to catch the two kissing. HHH wigs out and attacks Test, who runs off. Steph explains that Test forced her to kiss him, but HHH isn't fully convinced.

Over the course of the next few weeks, Test becomes obsessed with stealing Steph away from HHH, much like Kurt Angle did a few years back. HHH challenges Test to a match. Test wants to add the stipulation that if he wins the match, then he gets to have Stephanie for 30 days. Ric Flair agrees to the stipulation but only if Test agrees that if he loses, then Test will quit the WWF forever.

This match should take place at No Way Out. Test wins by cheating, of course, and Steph has to remain at his side for the next 30 days. 30 days after No Way out is Wrestlemania X-8 and HHH challenges Test to a return match, but this time the match will be Hell in a Cell. At Wrestlemania, Steph turns on HHH, but HHH still manages to win the match. The next night on Raw, HHH tells Test that he can have her and, well…he does.

Giving Test a feud with HHH and having Steph as his valet is Test's golden ticket to heel heat and stardom. Since Stephanie always makes herself the center of WWF storylines, it's only going to benefit Test by the two of them being together. After a strong showing in his Hell in the Cell match, Test should have earned the respect of the WWF fans and he can begin wetting his toes in the main event waters. In just three and a half months, Test could finally live up to his billing as "The Next Big Thing."

That's it for today. Catch you all on Tuesday.