Essen Comic Action 2011:
How Germany Does Comic Cons
Comics are universal. Fandom follows. Ric Bretschneider had the opportunity to attend one of the biggest comic conventions in Germany last month, and his report will show you how similar, and how different German fandom can be.
Photos and Article by Ric Bretschneider
To be honest, the Essen convention held each October is more about tabletop gaming than it is about comics, but the name of the convention is Die Internationalen Spieltage SPIEL '11 mit COMIC ACTION. Note the capital letters are theirs, not mine.
The Essen Con has a lot of parallels to our San Diego Comic-Con, with a couple of surprises.
Again, it's mostly about tabletop, not video, gaming. Vendors from over seventy countries bring their wares there, for games this is basically the place where most of the new game titles for the year will make their first appearance. Unlike Comic Con, this is a family event, meaning that it is very common for a whole German family to make the trek there and all participate in learning about and playing the new games.
Thanks to the great train and public transportation systems there is no real clog of traffic in town, another big difference from San Diego. The German U-Bahn subway system exits just a few yards from main entrance to the Messe Essen, or Essen Fair building.
Essen hosts a huge convention, wih over 140,000 visitors, larger than Comic Con by 20 to 30 thousand people. And it's an active convention - there are no panels, no show halls, no sitting in the dark watching videos and panels. Everyone who is attending is on the floor, talking to dealers, talking with other players, learning and having fun. The German convention attendees are generally happy, polite and well bathed (if you've been to American gaming conventions, you'll know that's a significant point to mention!)
In other words, it's beyond huge, but incredibly well managed.
The Comic Action part of the Essen Con is relatively small, perhaps 20 percent of the floor space and the aisles are not as crowded. There seem to be few home-grown comics, most of what you see are either imported English or translated American comics. There's also the cross-over merchandise. The Comic section hosts all of the role-playing and collectable card game action, as well as costuming and craft goods.
I could write much more about the convention, and will follow this piece up with another about the gaming side of the convention, but for now the story is best told with pictures of the comic side...
Click photos for larger versions.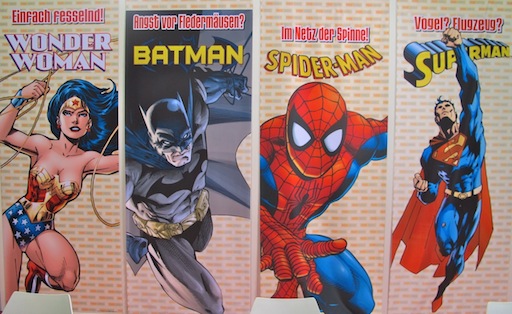 Wonder Woman is Just Captivating. Batman causes Fear of Bat, Spider-Man says Along came a Spider, and Superman can't decide if he's Bird or Plane?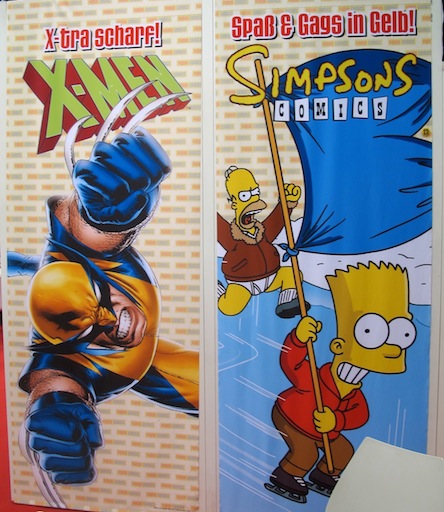 Not usually paired up, but in a sense it works. Wolverine is Extra Sharp, while Bart has Gags in Yellow!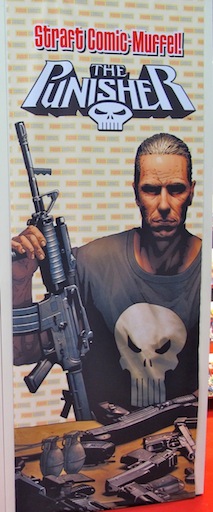 Straft translates to punishes, we're not sure what Comic Muffel means. But it's probably not good...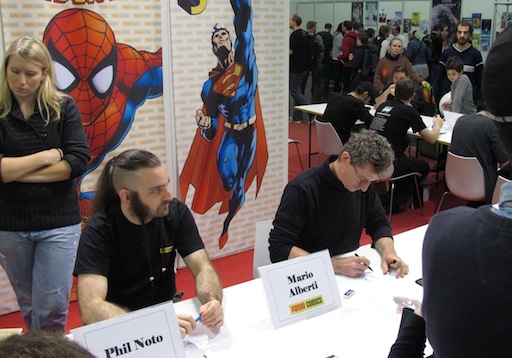 What would a con be without artists to draw and sign? Or long lines to wait in!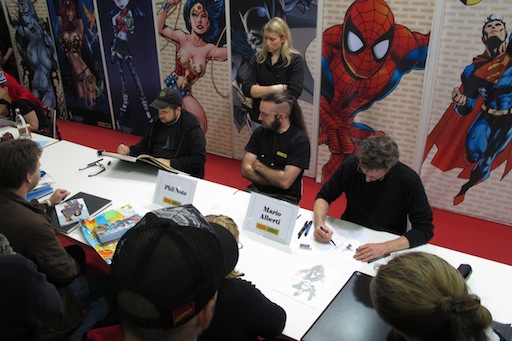 Unlike US cons, when you get up to your artist of choice you can sit down on the other side of the table and have a nice chat!
Tarot and School Bites were present each day!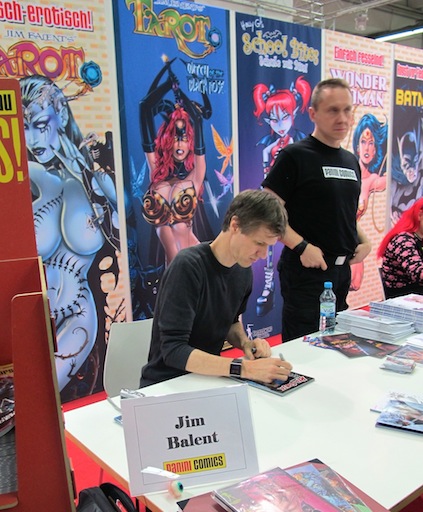 Jim Balent of Tarot signing for a fan!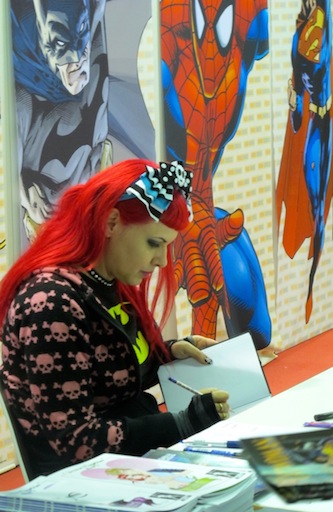 Holly Golightly of School Bites sketching!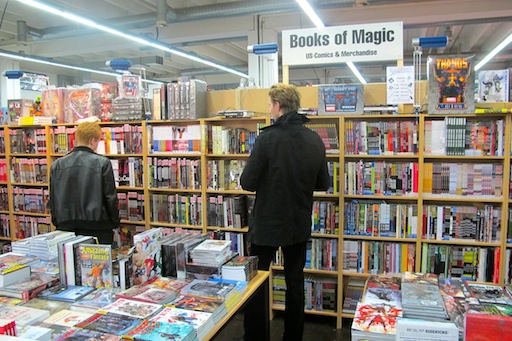 There were plenty of untranslated comics and books to buy, English is a really common language in Germany, typically studied for years when you're working in a business, tech, or science discipline.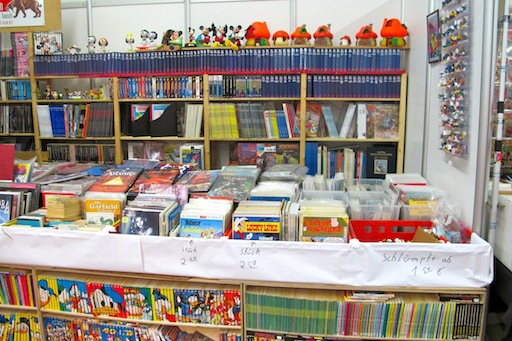 Note that top two rows of books !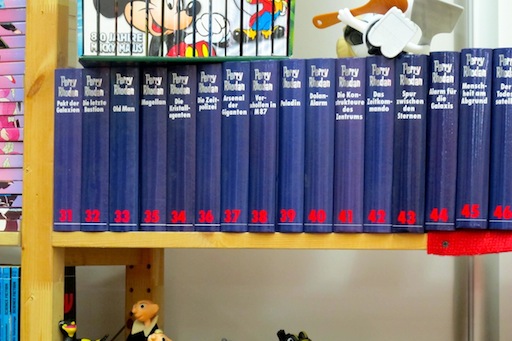 The Perry Rhodan series...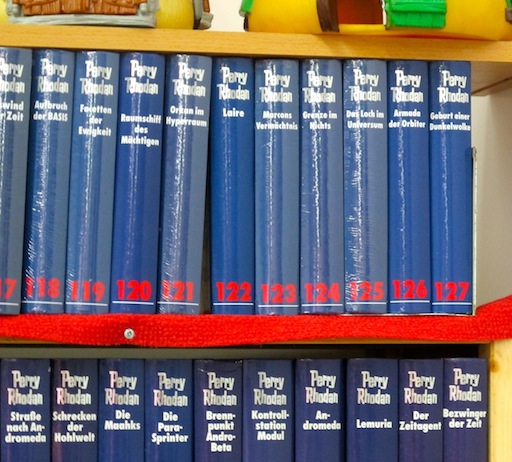 This might seem like a large number of volumes for a series, but its not really. It's just a subset! The Perry Rhodan space opera has been actively published since 1961, with a new story each week. Do the math, that's well over 2600 episodes. Selling over a billion copies world-wide!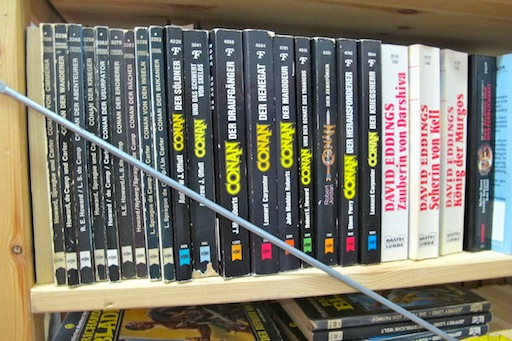 Of course, Conan is big around the world too!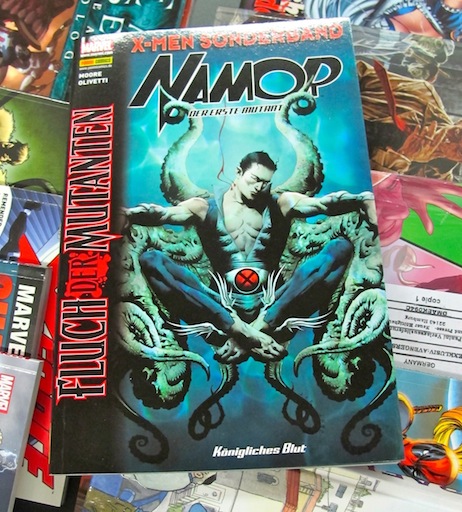 Namor in German.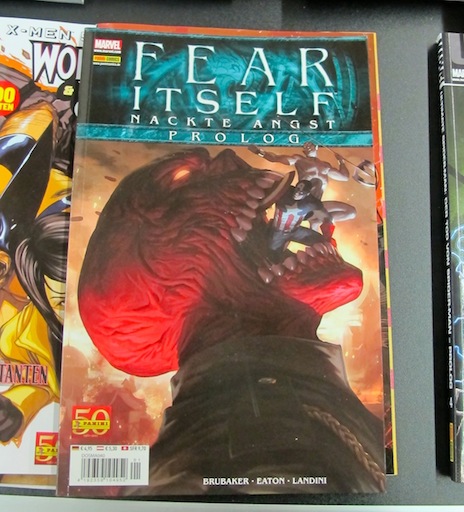 Even the Red Skull! Actually, Captain America was a very popular title.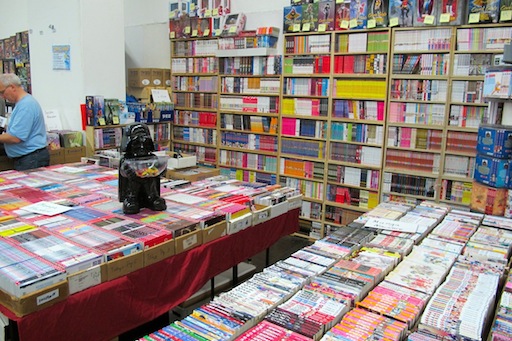 A very typical looking manga secton, could be from any convention!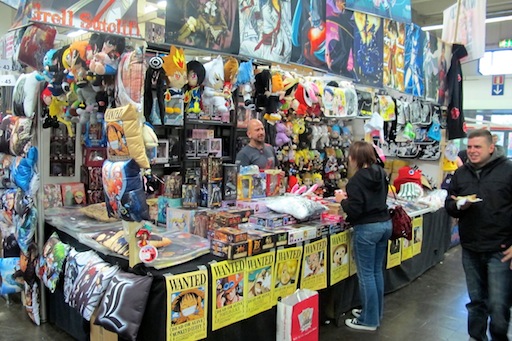 As could the plushy toys and other Anime influenced items.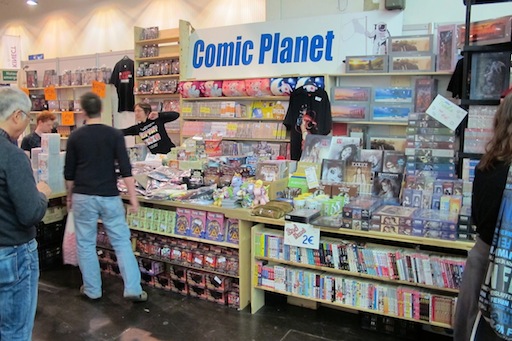 Somehow this felt familiar!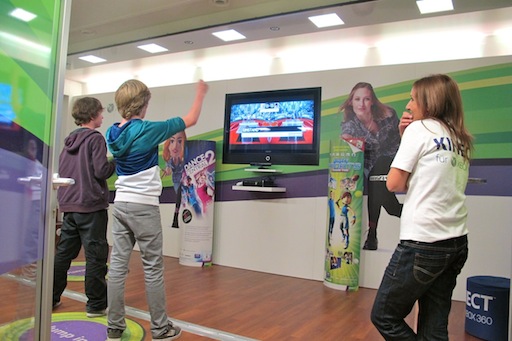 Microsoft was present with a Kinect demo van fur XBOX!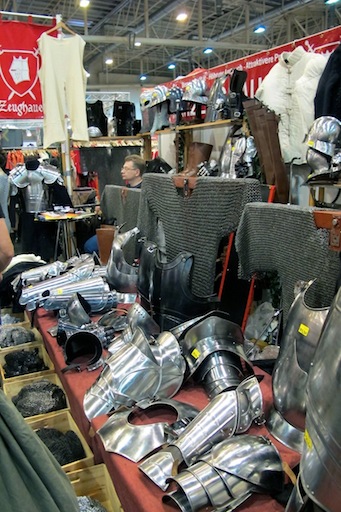 Of course, if you're interested in costuming, you'll find there's a very specific focus!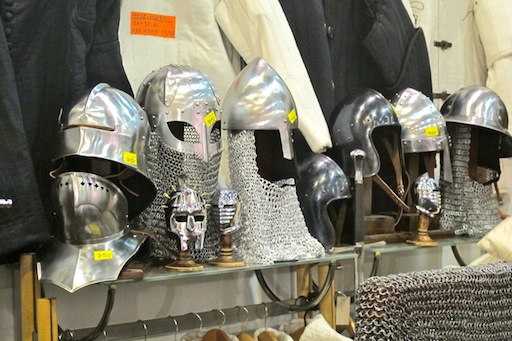 Take home a real helm for about 70 euro, aproximately $100.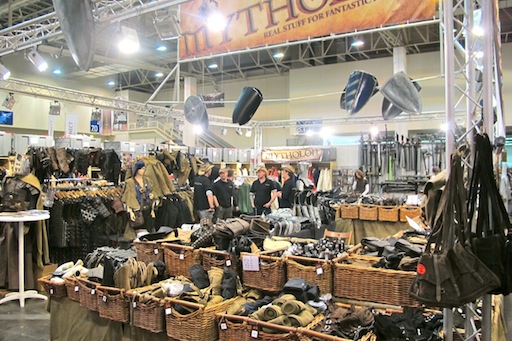 But why stop with a helment when you could create your own complete suit of armor with all the accessories.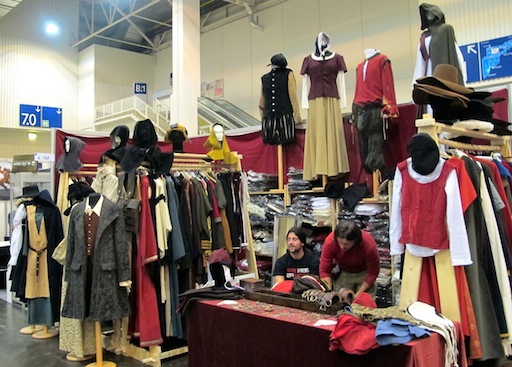 There's plenty of finery for when you're not traipsing after dragons!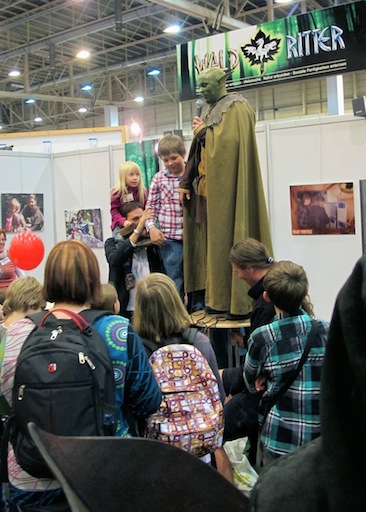 And yes, there's costumes and makeup!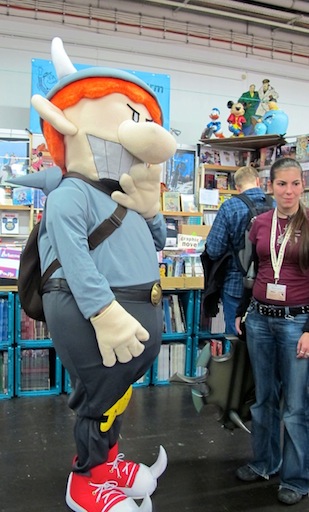 The plague of the Munchkin knows no nation!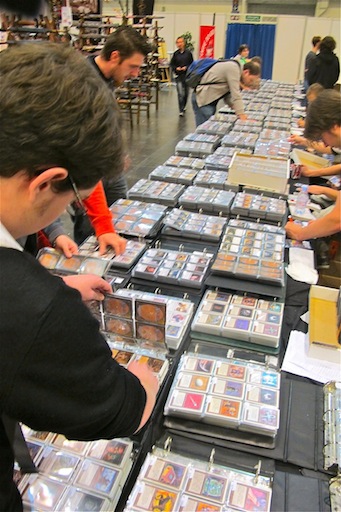 Magic the Gathering is universal !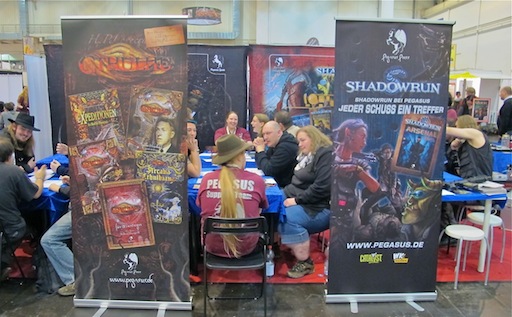 The roleplayers are generally friendly folks...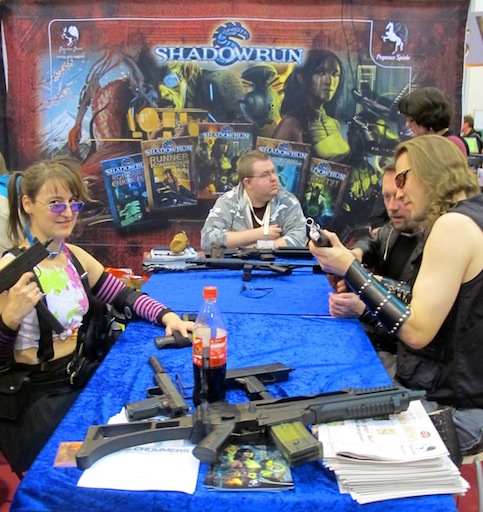 Even the Shadowrun players....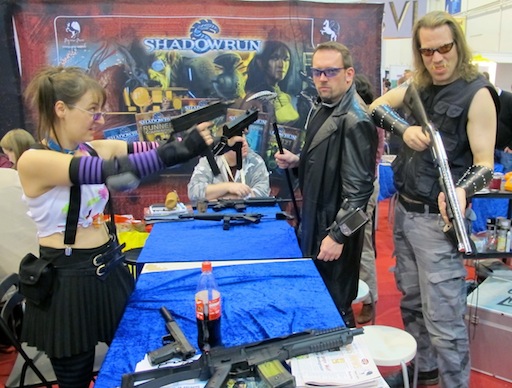 More than happy to show off their weapons! Yeah, this wouldn't fly at ComicCon.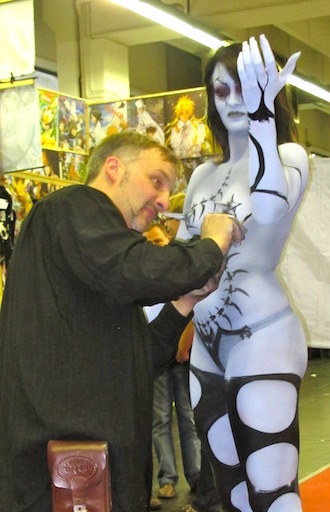 An artist recreates a comic book character...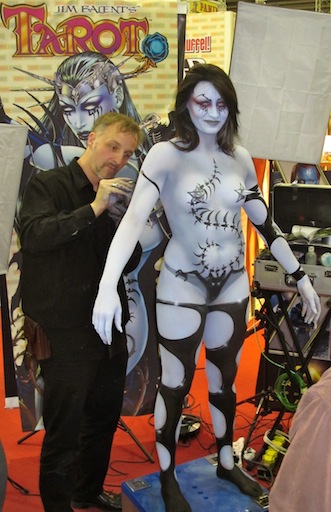 Hey, that's a real girl!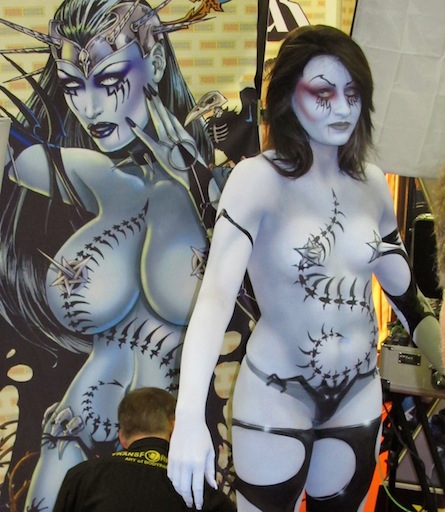 Attention to detail that again, you probably wouldn't see at Comic Con!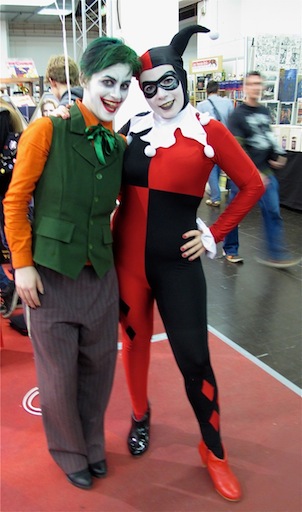 Some couples are universal!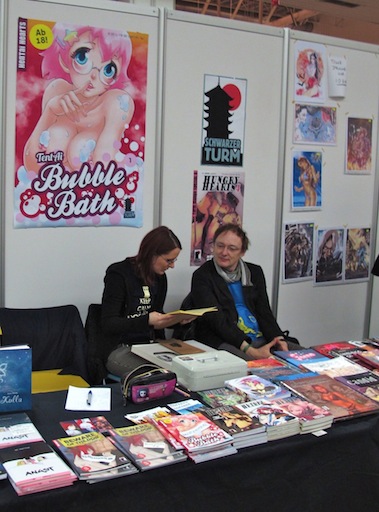 And mature manga apparently knows no boundaries!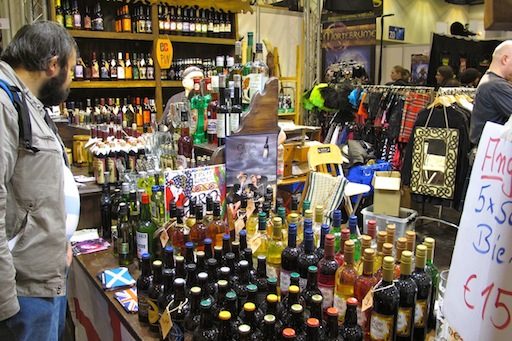 Of course, the refreshments available at this comic convention are a bit more mature as well! Germany is a lot more relaxed about so many things that we get upset about in the US.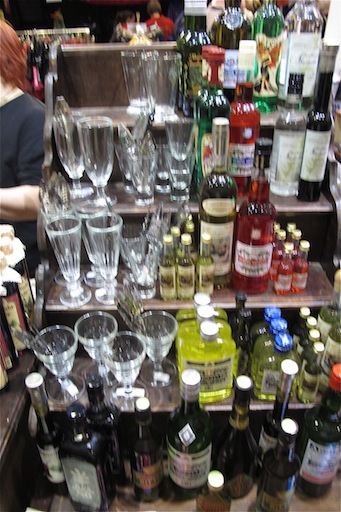 A wide variety of absinthe, along with the spoons and glasses. Until recently this wasn't even allowed in the US, much less available for purchase at a comic book convention!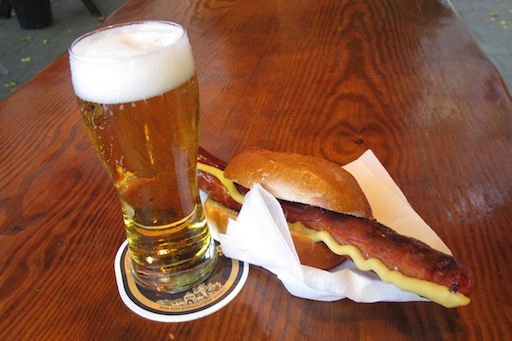 And the snacks are so much more filling. We can only hope our cons catch up with Germany!